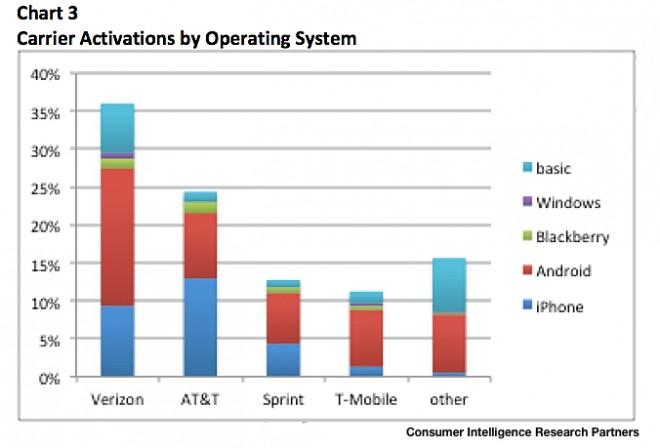 There's little argument that Android is overwhelmingly the OS of choice on T-Mobile's network, but what else is running on the network and how much of it? A new study from Consumer Intelligence Research Partners (CIRP) recently surveyed consumers who activated smartphones between June and August 2012.
It's hard to nail down exact percentages using the provided image, but you can get a pretty good idea that the overwhelming majority of T-Mobile customers use Android. The iPhone sneaks into second place, with Blackberry and Windows Phone taking up the third and fourth place positions. Interestingly enough, T-Mobile seems to be the second most popular carrier for basic/feature phones, a percentage they hope to change as they refarm their 2G 1900PCS network over to HSPA+ and entice customers onto that 4G revenue stream.
The total breakdown by OS ends up with Android holding down 48% of the market, followed by Apple with 29%, basic phones at 17%, Blackberry at 4% and Windows Phone in dead last with 1% of the OS market. Given that the iPhone takes second place on T-Mobile's network and it's not even officially supported, it's no wonder that T-Mobile is trying to entice unlocked iPhone owners over.
There's little surprise for Verizon as they take the award for most Android activations, and the case is the same with Sprint and T-Mobile. However, for AT&T, the original iPhone exclusive partner, iPhone activations still defeat Android with Apple making up more than half of AT&T's total activations during the survey's time period.