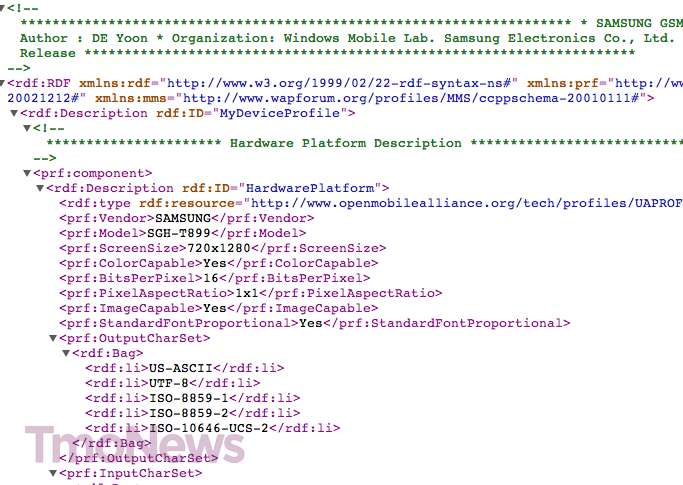 Windows Phone fans, now would be a really great time to pay attention as believe we've discovered T-Mobile's first Windows Phone 8 device — with LTE. That's right, your eyes are not deceiving you as the user agent string indicates this device is  running Microsoft Internet Explorer 10, which tells us this is running Microsoft's newest OS. The better news, tucked away inside the radio portion of the document is a listing for LTE — so not only is this T-Mobile's first Windows Phone 8 device, but it's ready to rock T-Mobile's upcoming LTE network.
If we sneak a peek back at a leak from The Verge back on July 31st when they outed two Windows Phone 8 devices heading to the US, we believe we're looking at the Samsung Odyssey for T-Mobile. That's a 4.65″ 720 x 1080p Super AMOLED HD display listed as having a LTE/HSPA+ 21 radio, 1080p camera on the back, 720p front-facing camera, 1 GB RAM and a MSM8960 (dual-core 1.5GHz Snapdragon S4) chip. The chip is listed on The Verge's leaked sheet with a HSPA+ 21Mbps radio, though it can support an HSPA+ 42Mbps radio as well.
If you're afraid that T-Mobile always gets the short end of the Windows Phone stick, it's looking like they are about to prove you wrong. Did we mention that the Odyssey is better than the Marco, the Samsung Windows Phone 8 LTe device with a 4″ WVGA display headed to AT&T? Just thought we'd drop that in.