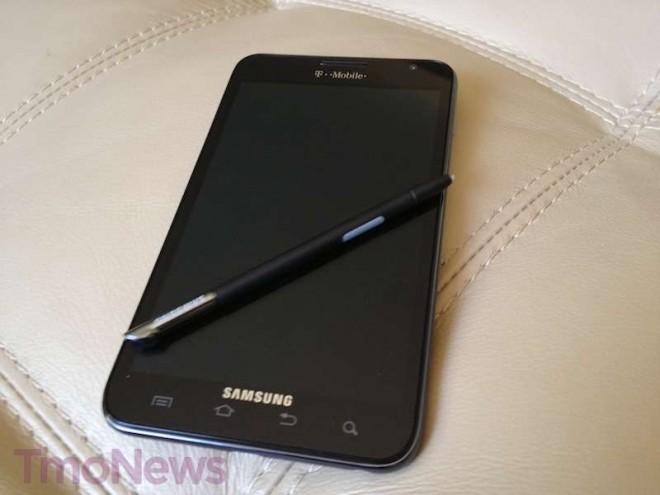 Writing about the Galaxy Note is a tricky ordeal. It's not so much the device itself, given that the Note has been around for a while. It feels like we already had an idea what to expect, especially those of you who have long been tracking a T-Mobile launch, you likely already know everything to know about the 5.3″ Samsung phone/tablet/phablet. Identical to its AT&T counterpart, the largest difference (outside of the crazy bloatware) is the addition of T-Mobile's HSPA+ 42Mbps radio.
I've had the Galaxy Note for around 5 days and because I spent the greater part of my weekend watching two very close friends get married, my time with the device hasn't been as detailed I would like. Therefore, this won't be a full review and, in most cases, I'm ok with that. Writing a complete, detailed review having spent just 5 days with a device is something I'm not a fan of doing. Sure, I made some judgments in the first few minutes, as I expect you will, but a complete review takes time. Also, I'd like to add a video review for the Galaxy Note. In fact, that's something I'm going to try and start doing regularly with devices moving forward.
So how about the obvious question I'll get out-of-the-way as we ask if the Note is too big? So, is it? Yes and no. As devices get larger and larger, it's beginning to feel like we're going to see more devices approach the Note size and not the opposite, especially considering both HTC and LG have Note "competitors" on the horizon. I have spent a lot of time lately with the Samsung Galaxy S III and, while my initial complaints about size have been somewhat turned around, the Note actually had me appreciating the size of the GSIII.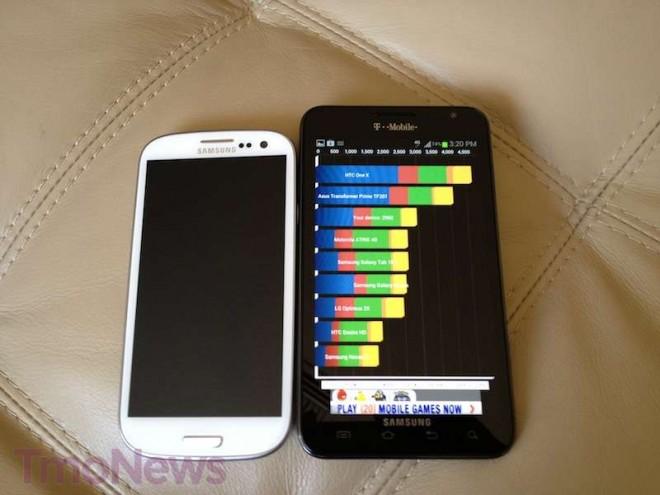 However, using the Note was quite pleasant and the greatest complaint I have about the device size isn't about holding it in your hand or looking foolish while talking on it. It's that my pockets simply don't work well with it. It's a silly problem to have, but a problem I have to consider either way. With jeans, the Note is easy since back pockets on a pair of pants are almost always large enough to hold the Note and something else. Try the note in a front pocket and it's a hit or miss scenario. So, again when I say the size is a "bad thing", I'm not necessarily referring to the actual size itself, only the transportation of such a device in a method that's similar to how I carry my everyday device.
For the past 10 days, I've used the Meizu MX, a Chinese import from Meizu that is a pentaband device with an HSPA+ 21Mbps radio. This is a 4″ device that has the same quad-core Exynos processor as the international Galaxy S III. I was really looking forward to trying it and, except for the occasional freeze up, I have done so. I bring this up because of the heavy transition from a 4″ device to a 5.3″ screen. That made for a far more interesting experience than the move from a Galaxy S III. I say all of this because a lot of how you will view the Note depends on the phone you are coming from now. If you are already transitioning from a device 4.3, 4.5 or larger, the move to the Note will be a lot easier than coming from something like an iPhone. The end of the size debate is really that you need to try the Note in-store to see if it's the right fit for you. It certainly has a lot to offer as a device and it's only a matter of whether or not the size works for your needs.
With all that out of the way, I'm still moving away from our general review blueprint since, as I said earlier, a complete review will arrive later this week. So let's take a brief look at the hardware, the Galaxy Note is a 5.3″ HD Super AMOLED touch screen, Android 4.0 Ice Cream Sandwich, HSPA+ 42Mbps connectivity, 8 megapixel rear camera, 1.5GHz dual-core Qualcomm Snapdragon S3 processor, 16GB of internal memory expandable to 32GB via a micro-SD card, 2500mAh battery, and quad-band 4G UMTS/HSPA+ so it's ready for T-Mobile's refarmed 1900MHz network.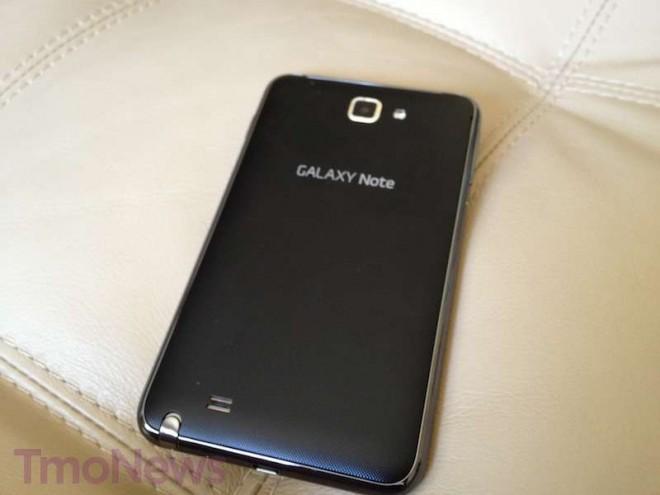 The outside of the device is pretty par for the course as far as Galaxy S devices go on the market. In fact it reminds me of T-Mobile's Galaxy S II. The bottom of the device houses the microUSB charger port as well as the S-Pen. On the right side of the device sits the power button with the 3.5mm headphone jack resting on top. On the left side of the device sits the volume rocker making this a pretty standard Samsung Galaxy S device as far as button placement goes.
The most unique aspect of the Galaxy Note is, of course, the S-Pen. It's the notable part of the device and it plays a big role in how you might use your phablet. The S-Pen "allows customers to write notes and annotate documents; share ideas and edited content; and create documents, presentations and spreadsheets." All in all, the S-Pen works well, but you have to want to use it. As a smartphone society, we've all but moved away from the Stylus and now Samsung is looking for it to make a roaring comeback and, while it works with the Galaxy Note, I found myself using it only when I remembered to do so. I completed the tasks on the Note without it. For content creation such as drawing a picture, the S-Pen is fabulous —- as for how it will integrate into your workflow, that remains to be seen.
The Note has the standard Samsung Galaxy four capacitive keys with Menu, Home, Back and Search right at the bottom of the device.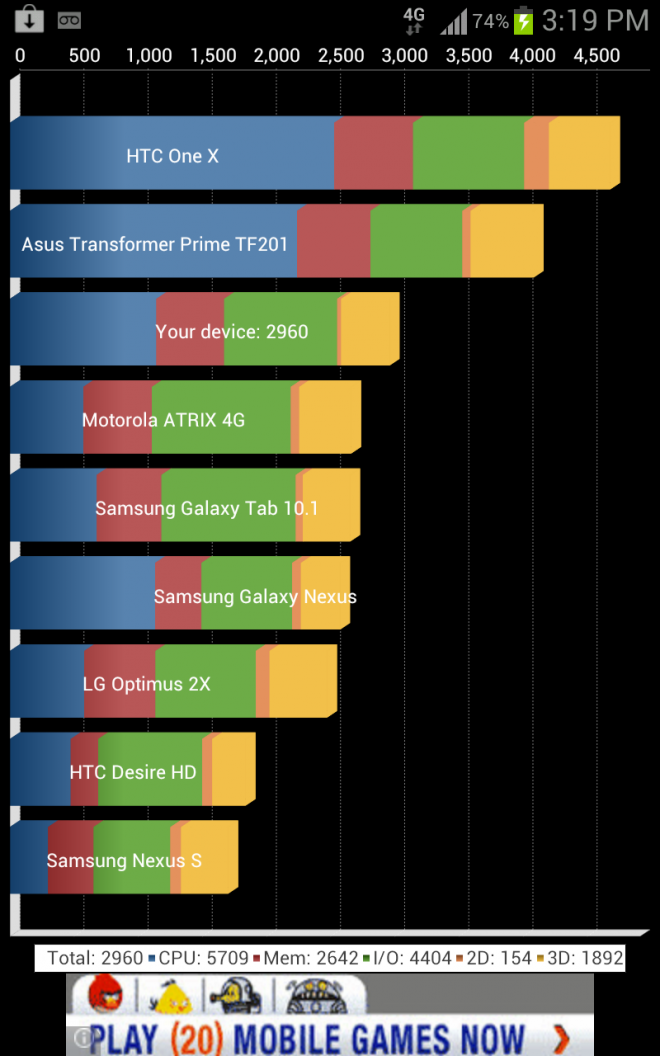 The real disappointment of the Galaxy Note is the Qualcomm Snapdragon S3 processor which isn't pokey but doesn't feel like it's S4 screaming. It's disappointing, though understandable that T-Mobile took the Galaxy Note hardware as-is. The real question is how many customers will be turned off by the presence of an S3 processor. The Note scored a 2960 on the Quadrant benchmark test, well below the 4500+ I see on the Galaxy S III. That's not to say you can't work your way through daily tasks on the Note. You absolutely can and will do so with minimal frustration. It's just difficult reviewing a device that certainly qualifies as running "older" hardware when I've been spoiled lately with the latest and arguably best Android device on the market.
In the 5 days I've been using the Note, I experienced zero freezes, lag, hiccups or anything that had me stop and wonder why the device was acting sluggish. If you're upgrading from a Galaxy S II, you'll feel right at home here with speed in terms of opening and loading apps.
When it comes to software, this is where the Galaxy Note really needs to stand apart.
T-Mobile is planning on using the Note as a tool for B2B customers, with the help of a some additional software features. The company is including the S-Pen, S Memo and Polaris Office for content creation, document editing and writing notes along with T-Mobile's 4G Pro Pack. For work on the go, T-Mobile's 4G Pro Pack includes apps like Dropbox, Evernote, Square, TripIt, CamScanner and LinkedIn. Sure, these are apps that are easily downloaded from the Google Play store, but T-Mobile wants this phablet ready for Enterprise customers right out of the box.
Regarding software, I'd be remiss if I didn't mention that, in addition to Enterprise-ready software included specifically with the Galaxy Note, the devices include a bevy of extra software we just love to point out as bloatware. T-Mobile included a host of its own software including 411&More, Bobsled Messaging, T-Mobile Mall, T-Mobile My Account, T-Mobile Name ID, T-Mobile TV, and Visual Voicemail. For their part, Samsung included a number of its own extras including Samsung Apps and Social Hub. There are some specific pieces of software included, most of which we've already mentioned or that are specifically developed to work with the Note and other Stylus devices including Crayon Physics, S Note, and S Memo. Of course, if you're purchasing the Galaxy Note, odds are you're going to venture into one or both of those apps at some point within the first day or two of owning the device just to see what the Stylus is made of.
Anyone familiar with TouchWiz will feel right at home with the Galaxy Note as this device just screams TouchWiz with the widgets, preloaded apps, and more. That's not to say that's a bad thing but it's just worth pointing out that if you are already familiar with TouchWiz, there will be almost zero learning curve upon picking up the Galaxy Note.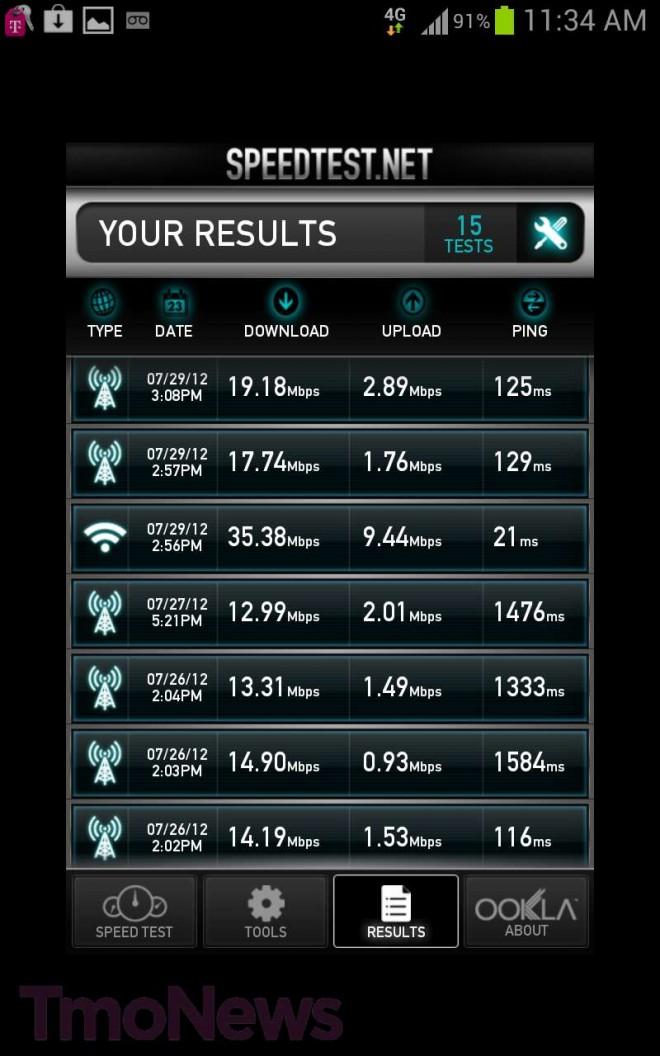 Moving on to other, more pertinent areas of the Galaxy Note, I come to internet speeds, a place where the Galaxy Note performs admirably. However, I did notice that the Note didn't quite achieve the same speeds as my Galaxy S III in the same areas — in fact I never eclipsed 20Mbps in areas where the GSIII would hit 25+ on occasion. Still, the Note was regularly in the 14-18Mbps range, all perfectly fast speeds and more than enough to fulfill my e-mail attachment downloading and web-surfing needs.
As I've come to expect from Samsung smartphones, the Note sounded loud and clear on phone calls and I had no complaints from anyone on the other end. In fact, there's a pretty great phone tucked inside the Galaxy Note, making it easier to recommend as a daily driver.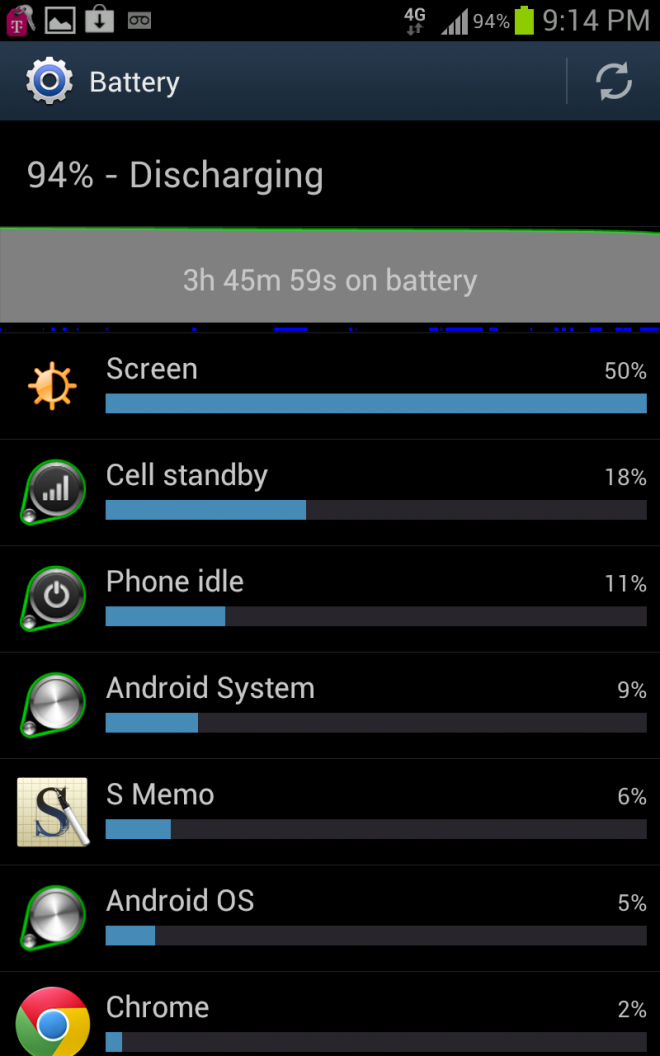 When it comes to battery life, so far the Galaxy Note has performed well thanks to a 2500mAh battery. Keeping in mind that like all early reviews, I've found myself playing with more of the phone's features than I would a few weeks from now yet I've had no problems getting through the day.
With a "full" review coming, I'll try and highlight more Galaxy Note-specific features in the coming days. For now, I'd say the Galaxy Note is an easy buy if you like the idea of a 5.3″ screen, Stylus or a phone that doubles as a tablet and a tablet that doubles as a phone. The Note will be available on August 8th at select T-Mobile retail stores and through T-Mobile's website. With a Classic voice and data plan, the Galaxy Note will cost $249.99 after a $50 mail-in rebate with a two-year agreement. Value plan customers with a voice and data plan can expect to pay a $199.99 out-of-pocket down payment and 20 equal monthly payments of $20 per month with T-Mobile's Equipment Installment Plan.