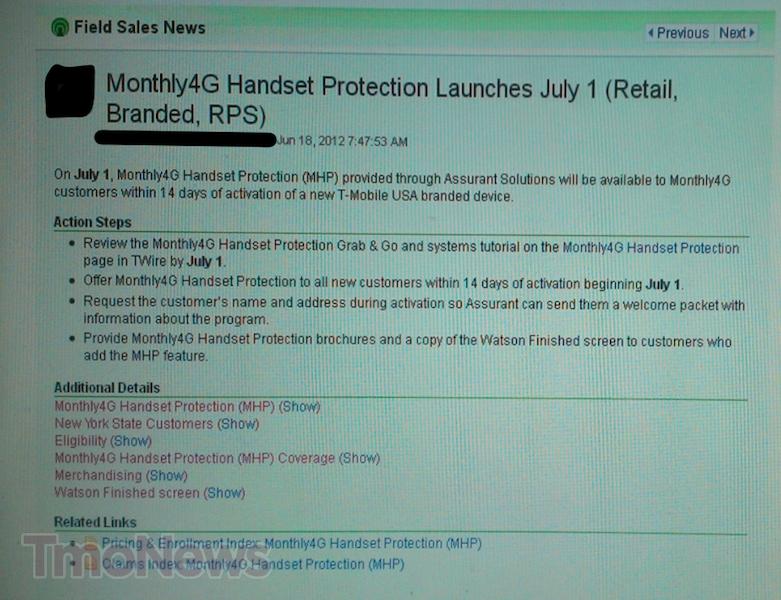 Set to launch on July 1st, T-Mobile will introduce Monthly4G Handset Protection plans through Assurant solutions available to customers within 14 days of activation on any T-Mobile branded device. T-Mobile's Monthly Handset Protection plan is available for $7.00 a month and provides coverage for "equipment loss, theft, accidental damage and device malfunctions (out of warranty only)." Extended warranty coverage begins immediately following the one-year manufacturers warranty period and customers can switch eligible phones at any time. Monthly Handset Protection follows your phone number and not the device itself, so the purchase of a new device from T-Mobile automatically allows for the transfer of coverage.
Along with the device, Monthly Handset Protection covers the SIM card, battery and Wall Charger along with a memory card if required.
For the most part, Handset Protection is a pretty decent opportunity to protect against having to buy a whole new device if yours is lost or stolen.
Additional Details

Monthly4G Handset Protection (MHP) (Hide)

The bundled product, providing Insurance and Extended Warranty coverage (similar to the PHP bundle), is available for $7.00 per month. Note: Cannot be added to SIM only activations, which are activations for a SIM card to be used in the customer's exsisting device not purchased through T-Mobile. MHP is added to Monthly4G plans just like any other Monthly4G feature: Covers equipment loss, theft, accidental damage and device malfunctions (out-of-warranty only) and is provided through Assurant Solutions . Provides Extended Warranty coverage beyond the one-year Manufacturer's Warranty. Does not cover Manufacturer Warranty Exchanges within the first year. Allows customers to switch eligible phones at any time; the MHP coverage follows the customer's mobile phone number rather than the device.

New York State Customers (Hide)

New York state customers will also have standalone Insurance and Warranty coverage options sold directly by Assurant Solutions only. (As required by state law) These additional offers are billed through the insurance vendor Assurant Solutions and do not display on the T-Mobile account.

Eligibility (Hide)

New customers activating a new T-Mobile phone, Laptop Stick, or Mobile HotSpot and customers migrating from postpaid to Monthly4G can add MHP within 14 days of the activation of a T-Mobile branded new or refurbished device from an authorized T-Mobile channel. Customer's account must be in paid status. Monthly4G customers only. Not available to Pay By The Day or Pay As You Go customers. Available to all U.S customers except Puerto Rico.

Monthly4G Handset Protection (MHP) Coverage (Hide)

MHP Covers the following:

Device replacement, SIM, Battery and Wall Charger as well as the memory card, if required for the phone to function, accidental damage (including water damage) and mechanical and electrical malfunctions after the manufacturer's warranty expires. Note: The following are not covered: Apple iPhone, Tablets, Routers, and NetBooks. Eligible non T-Mobile devices after valid MHP enrollment. MHP coverage follows the mobile number attached to the enrolled line. (This is similar to PHP)