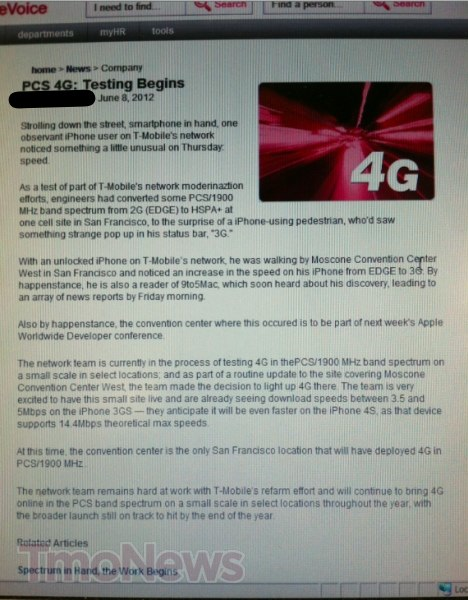 We already knew that T-Mobile planned on "coincidentally" showing off their 1900/PCS HSPA+ refarmed network at tomorrow's World Wide Developer Convention for Apple — and they are letting employees know this is the real deal. The memo doesn't tell us anything we didn't already know two days ago, including the sudden discovery of this effort by an "iPhone-using pedestrian" who just happened to be walking by the center.
T-Mobile emphasizes that their network team is in the process of testing 4G in the 1900/PCS band on a small-scale in select locations, including this one particular micro-cell near the Moscone Center. The memo notes that T-Mobile engineers tested the site with a iPhone 3GS which saw download speeds between 3.5 and 5Mbps with expectations of faster speeds with the iPhone 4S which supports 14.4Mbps theoretical max speeds against the 3GS' 7.2Mbps.
At this time, T-Mobile notes that the Moscone Convention Center is the ONLY San Francisco site to have deployed HSPA+ in the 1900/PCS band. More important, is T-Mobile's note that they expect to have a plenty of HSPA+ cities online by the end of the year.
As a quick reminder, the refarm effort goes far beyond T-Mobile's ability to operate the iPhone on their 4G bands as it will allow for the introduction of a number smartphone that includes HSPA+ connectivity on the 1900 band, which opens the door for dozens of new handsets T-Mobile customers can take advantage of by purchasing unlocked or bringing over from AT&T or other GSM-centric carriers.