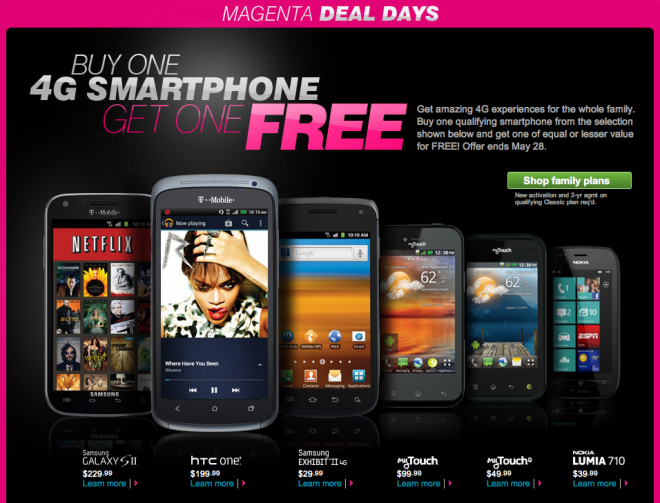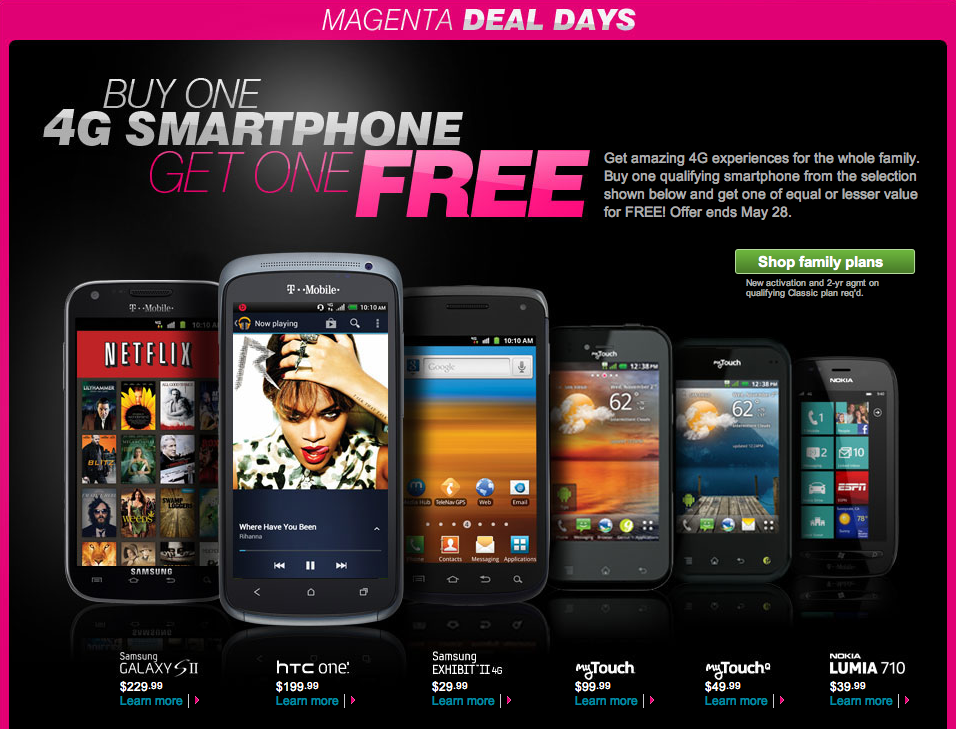 Is two better than one? T-Mobile certainly wants you to think so as they introduce their newest buy one, get one (BOGO) offer this Friday, May 18th through Monday 28th. Customers who purchase a select T-Mobile 4G device will receive a mail-in rebate for the amount of the second purchased device, up to $329.99. The promotion includes the HTC One S, Samsung Galaxy S II, HTC Radar 4G, Sonic 4G Mobile Hotspot and the rest of T-Mobile's 4G handset choices. Hit the T-Mobile link or press release below for all the details.
Full Press Release:
T-Mobile Proves That Two Is Better Than One
From May 18 to May 28, T-Mobile's "Magenta Deal Days" continues, offering customers a free 4G smartphone when they purchase one of equal or lesser value
BELLEVUE, Wash. — May 16, 2012 — T-Mobile is showing customers how two is better than one. For a limited time, customers who purchase a select 4G T-Mobile® smartphone will receive a second smartphone of equal or lesser value for free, after a mail-in rebate card, making it more affordable than ever for families to upgrade and have amazing 4G experiences on America's Largest 4G Network®. The promotion will take place from Friday, May 18, through Monday, May 28.
T-Mobile's "Magenta Deal Days" Buy-One-Get-One (BOGO) promotion offers customers a mail-in rebate card worth up to $329 toward a new device with the purchase of a select T-Mobile 4G smartphone or mobile broadband device. Customers can choose from T-Mobile's latest and fastest devices, including the HTC® One™ S 4G, Samsung Galaxy S® II 4G, HTC Radar™ 4G, Sonic® 4G Mobile Hotspot and the Samsung Galaxy S® Blaze™ 4G, among others, running on America's Largest 4G Network®.
"Our latest 'Magenta Deal Days' promotion continues our commitment to giving our customers the ability to enjoy all the 4G experiences of a smartphone on our best plans ever," said John Clelland, senior vice president of marketing, T-Mobile USA. "What's better than getting one of the sleekest, fastest 4G devices on the market? That would be getting two for the price of one."
New and existing eligible (meaning 22 months or more on their current contract) customers can take advantage of this promotion and receive their second device for free after a mail-in rebate card when they sign up for a new two-year contract on any qualifying Classic Plan™1 or paying a $0.00 down payment after mail-in rebate card on their second device when signing up on a qualifying Unlimited Value™2 plan.
Below is an example of pricing for the BOGO promotion on either T-Mobile's Classic or Unlimited Value plans. The devices listed do not reflect all of the devices available during the BOGO promotion.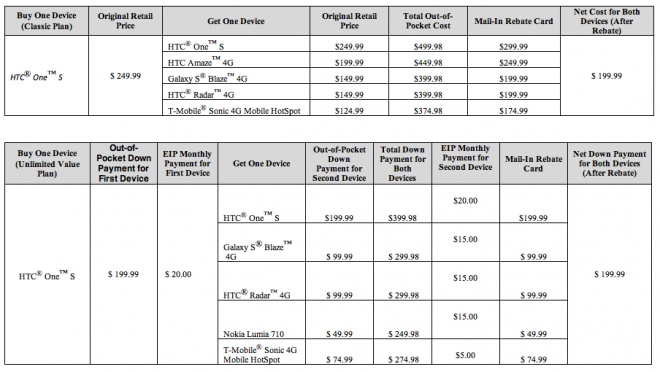 The "Magenta Deal Days" BOGO promotion will be available at participating T-Mobile retail stores nationwide. For more information about T-Mobile's products, services and a full list of eligible devices: http://t-mo.co/IFiLii.
1 Standard upgrade eligibility rules apply for existing Classic customers who stay on a Classic plan.
2 On approved credit and 0 percent APR. Down payment and unfinanced portion required at purchase. Remaining balance paid in 20 monthly installments. Total price of each device equals down payment amount plus 20 times the monthly payment amount.
About T-Mobile USA, Inc.