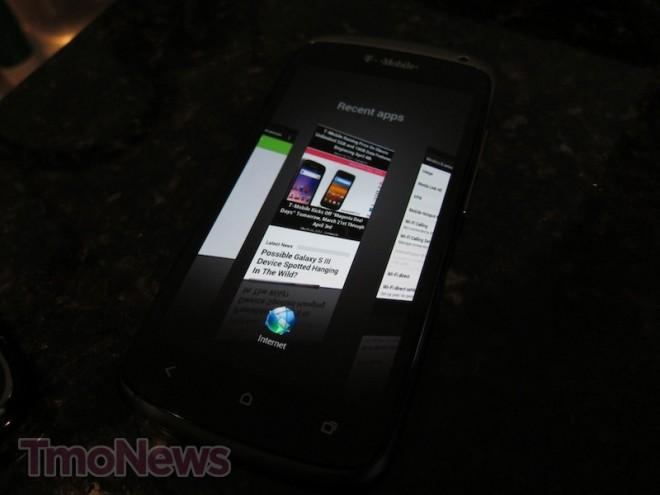 Judging by both the "professional" and amateur reviews floating around the web, HTC One X and HTC One S owners are very happy with their devices overall. There is a lot to love with HTC's new One series, though one "tweak" is seemingly causing a bit of a rebellion. So what is that tweak? How Sense 4 handles multitasking. If you've had your hands on HTC's newest hardware, you'll notice the most obvious change is aesthetic as the multitasking screen presents a horizontally scrolling list of 'open' apps, and not a vertical list of tiles. The visual change is something we don't have any problem with, but apparently the underlying reason is causing some HTC One X owners some aggravation.
A number of forum members over at XDA Developers have complained that the way Sense 4 handles multitasking is "over aggressive" in closing background apps, resulting in a less than optimal experience. While the multi-tasking implementation changes may lead to improved battery life, the changes themselves are frustrating power users.
HTC, for their part says that Sense 4 is "operating normally," and that while this is different from stock Android, it's perfectly normal. HTC had this to say:
HTC is aware of some questions in the enthusiast community about how the HTC One X handles multitasking and memory management for background apps. We value the community's input and are always looking for ways to enhance customers' experience with our devices. That said, right now multitasking is operating normally according to our custom memory management specifications which balance core ICS features with a consistent HTC Sense experience.
We can take note of HTC's promise to look "for ways to enhance customers' experience" as an indicator that changes could be afoot if the feedback gets louder and louder. For the moment however, HTC isn't marking this down as something requiring a fix, so we ask you — does the way Sense 4 on the HTC One S handles multitasking bother you or do you like the new aesthetics and accept a bit of tradeoff for it?