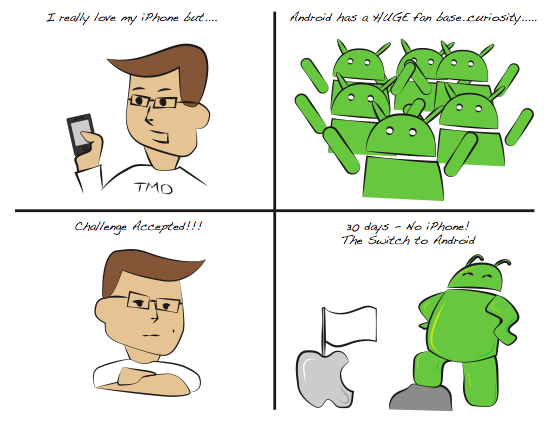 Today marks the 27th day of my Android challenge and with three days left, attempts to really integrate Android into my life have risen to another level. At this point I'm neck-deep in wading through the wonders and disappointments of the Android platform. Most notable is my sudden commitment to finding the perfect launcher/lock-screen combination which has taken up far too much of my time.
Before I get into that, I want to once again continue my praise for Swiftkey and its recent notification that I've saved 10,000 keystrokes. Whether or not that number is 100% right is really irrelevant to me — I know for a fact it has saved me keystrokes. The real number of saved keystrokes while interesting, doesn't make me love the app more or less, I just love it. I swear I'm not being paid to promote this app, but I do have to wonder how this challenge would be turning out without Swiftkey, an app I'm not entirely sure I can ever give up.
Moving on and echoing my earlier reports, I'm still in love with default app switching and have settled on Firefox Beta as my browser of choice on Gingerbread and Chrome Beta on Ice Cream Sandwich. I've been back on the HTC One S for the last week and I'll likely continue with it for a few more days as I complete the challenge.
The addition of Comcast's Xfinity app in the past 48 hours has also made my Android experience more on par with that of my iPhone. I know prospect of watching a lengthy television show on a smaller screen isn't appealing to everyone, but choice is choice and I'd rather have the option of doing so than not at all. At the very least it lessens the game between apps that I both want and need on my iPhone and have been unable to get on my Android device.
One thing that I did want to discuss in this post briefly since I'm going to make it short as my last report will come in the next couple of days is that of customization. One of the greatest assets of the Android platform is your ability to completely customize the device. In my eyes, that's both a blessing and a curse. The iPhone 4S I have is unlocked, purchased unlocked directly from Apple so I had no need to jailbreak it prior to unlocking. That wasn't the case with the iPhone 4 I sold before purchasing my 4S. When jailbroken, I spent hours endlessly customizing the icons, wallpapers, lock-screens, widgets and all the fun little tweaks one can have while jailbroken. While you don't need to jailbreak your Android device to customize, (unless you want custom ROM's, then you have to root), customizing the device is equally frustrating for me.
First, let me clarify my definition of the word frustrating, it's not frustrating in the sense that I'm angered or upset, I'm frustrated because I can take up so much time looking for the perfect set-up. I'm frustrated because I'm never happy with one particular look. I've customized my icons, lock-screen, wallpaper, and widgets almost every day I've had a device in my hand the last 27 days. Perhaps I'm just obsessive with trying to find that "one" look that will keep me happy, or maybe I'm just hard to please. Either way, customizing my Android device has taken up far more time than I would care to admit.
So again, when I say the word "frustrated," you'll have to ignore the first definition that pops in your mind and recognize I'm frustrated because the options are so plentiful, so refreshing that it's causing me to get — frustrated. First world problems right?
In any event, my challenge is almost over and while I know many of you are emailing, tweeting and wondering if I'll stick with Android, do a 30 day Windows Challenge or go running back to my iPhone, check out the final report in the next few days and you'll find out all the answers!