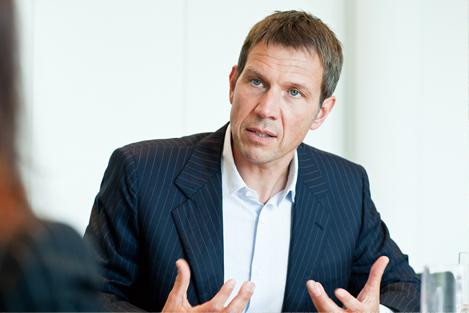 Deutsche Telekom CEO Rene Obermann spoke this morning during his company's investors call and said that a T-Mobile merger is still an option, though an outright sale is more than likely off the table.
"We do not exclude any option for the T-Mobile unit in the U.S., also not a merger," Obermann told shareholders today at an annual meeting in Cologne, Germany. "A complete sale is unlikely. You understand that I can't say more in public on T-Mobile USA."
The comments are Deutsche Telekom's clearest yet on their plans to hold on to their USA branch, though they did not discount the idea of a merging the company with a partner. Obermann said that T-Mobile is still "look[ing] for a long-term solution to improve earnings in our U.S. business."
Analysts agree that Deutsche Telekom may need to combine T-Mobile USA with a partner to boost the company.
"We don't see any value creation by T-Mobile USA if it stays as a stand-alone company," said Alexandre Iatrides, an analyst at Oddo & Cie. in Paris. "The alternatives would be a merger or some kind of network-sharing agreement with MetroPCS or Sprint Nextel."
The uncertainty about T-Mobile's future has affected Deutsche Telekom's business as Obermann says that: "We must find other ways to increase the return on our capital, or to reduce our capital investment….believe me, we are really working very hard on this, but we are not going to make a snapshot."
The company continues to explore options involving selling off the company's tower portfolio having hired TAP Advisors LLC to advise them on any process with hopes of raising a few billion dollars with such  sale.