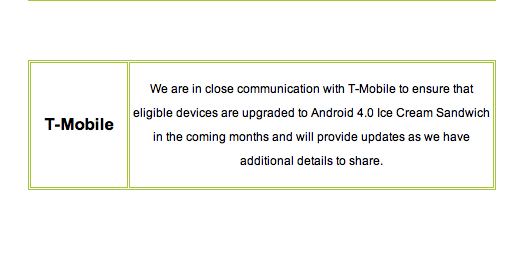 I can imagine this looks really bad for T-Mobile's Samsung user base as Samsung details their planned Ice Cream Sandwich rollout for the nations top four carriers. While Sprint, Verizon and AT&T see specifically named device, T-Mobile is left with just a statement:
"We are in close communication with T-Mobile to ensure that eligible devices are upgraded to Android 4.0 Ice Cream Sandwich in the coming months and will provide updates as we have additional details to share."
So what does this mean? Honestly, we don't know…it may mean nothing other than T-Mobile and Samsung weren't able to list each device receiving Ice Cream Sandwich before this list went public. Perhaps it means T-Mobile and Samsung are still in negotiations over updates. What I don't think this means is that no T-Mobile/Samsung device will receive Ice Cream Sandwich.
What devices should be on this list? The T-Mobile Galaxy S II, Galaxy S Blaze 4G, Galaxy Tab 10.1, and the Exhibit II 4G to say the least. Any Vibrant or Galaxy S 4G owners hoping for news should likely prepare themselves for bad news, there isn't another first-generation Galaxy S device on this list.
We'll admit, this looks bad, bad for both Samsung and T-Mobile especially T-Mobile's Sensation 4G customers already frustrated by the delayed Ice Cream Sandwich update. There is an obvious need for a statement from the T-Mobile side as well, at least letting customers know that they are working to resolve the issue. Otherwise, XDA is beginning to look awfully nice this time of year.
Hit the Samsung link below to voice your frustrations.