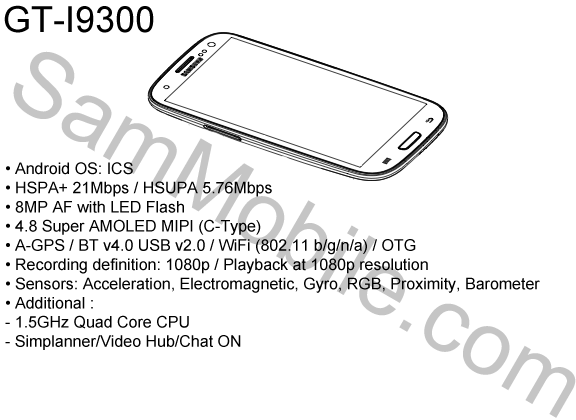 Things are starting to get a little nutty, or perhaps murky would be the better word when it comes to details surrounding the Galaxy S III hardware. We've heard several claims of what kind of specs the smartphone will run on, from what many claim are absolutely reliable sources, and yet, plenty of these leaks manage to conflict with one another.
Well, get ready to add one more set of conflicting specs to the mess as a page from the alleged Galaxy S III service manual has popped up online. The folks at SamMobile have acquired what is believed to be a page from the official service manual for the Galaxy S III, or it Galaxy S3? No matter, the render in this image looks exactly like the leaked image we saw of an alleged Galaxy S3 pop up in Brazil. It's a splitting image, down the hardware buttons, curves, everything.
What's more is the curves on this device seem to match up with the image teased by Samsung's Denmark Facebook page last week. So is it possible we're looking at the really final final final render of the Galaxy S III? It's possible, but we've said that before.
The spec list is where this gets interesting and perhaps throws our confidence in the render for a loop. The quad-core CPU was confirmed by Samsung late yesterday evening, but running at 1.4GHz and not 1.5GHz as this image would have us believe. The 4.8″ display listed here also conflicts with the 4.6″ to 4.7″ rumors that have persisted for the past few weeks.
SamMobile has a strong track record for Samsung leaks so we're inclined to believe that this image is the real deal however, the specs on the page are up for debate. No matter, the Galaxy S III remains shrouded in a mystery that will only be unveiled on May 3rd.