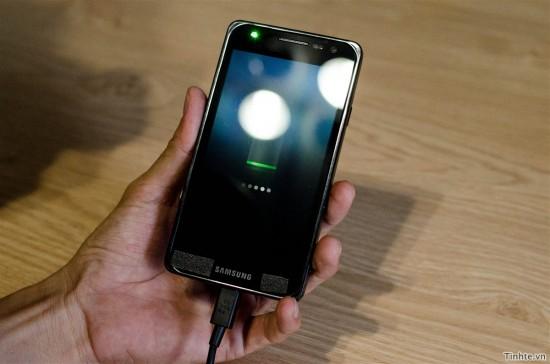 Reminder: These images and video show the device's inner guts with a dummy outer shell. 
Let me say this right from the start, there is a very good chance this is the Galaxy S III. You're asking "David, how do you know that?" Well, that Samsung is trying to get the video pulled from Engadget with a legal request is our first hint. That's the kind of move we only see manufacturers or carriers do when they are really trying to keep something under wraps. That and you have to hit really close to home to call for a legal request.
The images and the video are all thanks to Vietanmese site Tinhte.vn, who has since pulled down their own post along with the images and video. Thankfully, a number of overnight bloggers grabbed the video and have since uploaded it to the YouTubes. The site's video provides a tour of the dummy hardware and software, with a bunch of photos to support their claims as well. So what do we know about the specs?
Quad-core cpu running at 1.4GHz with 1GB of RAM
4.6″ Super AMOLED 720p display (320 DPI) with on-screen buttons
Android 4.0.3 Ice Cream Sandwich with TouchWiz
8 megapixel rear camera with LED flash, 1080p video recording
16GB internal storage plus microSD card support
2050mAh battery
NFC support
MicroSIM card support
If the spec list is accurate, there aren't any real surprises but Samsung has a real contender on their hand for the "it" phone of the moment. Right now, security around Samsung's launch on May 3rd is the tightest we've ever seen for a Samsung launch and a reminds us of the veil of secrecy surrounding any Apple product. The blog says this is close to a final design though with Samsung taking extreme measures to prevent any leaks, it's tough to call anything final at this point.
Tinhte.vn reportedly said: "Samsung has used a fake outer shell designed to ensure the machine is not exposed until it is unveiled."
Engadget originally reached out to Samsung receiving a brief but telling response: "We will be able to tell you more at the 2012 Samsung Mobile Unpacked." I'd say that's a non-denial denial. So is this the real thing? It certainly looks to be more real than anything else we've seen thus far, but we'll have to wait until May 3rd to know.
Engadget, Android Central, Tinhte.vn