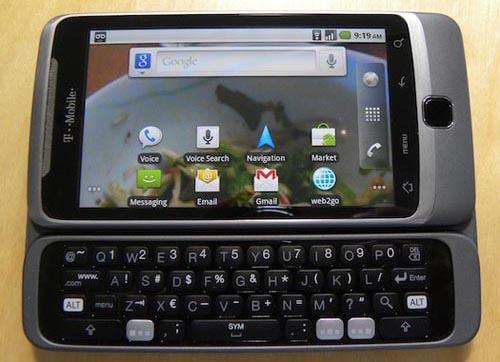 HTC's holding a media event for select members of the tech press out in Seattle and we've learned a bit about how HTC operates, designs and works to grab our business. That's not to say all the news is good news, at least if you're a QWERTY keyboard fan.
HTC Creative Director Claude Zellweger told attendees that HTC is moving away from producing new devices with physical keyboards.
"As a company the QWERTY keyboard we're moving away from in general. "putting too much effort into that QWERTY phones would take away from our devices."
HTC believes that too much extra time is spent on design for QWERTY equipped devices, time that is better spent focusing on improving the company's on-screen keypad software.
On a separate note, HTC's Eric Lin, Manager of Product Strategy explained that carriers are often very picky about choosing colors for an upcoming handset:
"How do you tell AT&T to sell a red phone, or Sprint to sell a red phone?" He added that you can "get in a place where there's a lot of carrier loyalty to one color, or carrier hatred for another color," so HTC avoided colors like "AT&T blue" and tried testing a number of different hues.
Lin went on to further explain that men own more smartphones than women and that white handsets have helped "open up women to smartphones." HTC's testing has also discovered that when it comes to colored handsets, there is often a perception that colored handsets are seen as "something for kids" and not suitable for a professional atmosphere.
As more and more black handsets are produced I'd like to think that we can get away from the black mold without a concern "professionalism" based on the color of our smartphone. Lin did say that HTC will continue to experiment with different colors and shades via cases. Personally, I'm all about the white smartphone, I've got a white iPhone 4S and I'd happily pick up a white Android device on T-Mobile. If the HTC One S releases in white, I'm all over it.
On a third and final note, NVIDIA's General Manager of Mobile Business, Mike Rayfield was on hand to talk about NVIDIA's Tegra 3 product. Rayfield says that NVIDIA is preparing for a third quarter launch of Tegra 3+ which will work with LTE enabled devices. Calling Tegra 3+ "high performance" and a "pretty significant bump" compared to today's offerings, we're excited to see how Tegra 3 handles as quad-core processors start to rollout. With or without LTE on T-Mobile's network, customers can still benefit from the power of a Tegra 3 chip and we hope to see them launch in the third quarter.
So what do you think? Will you miss HTC QWERTY devices? Do you care about which color smartphone you purchase? Are you excited to see Tegra 3+ launch later this year?