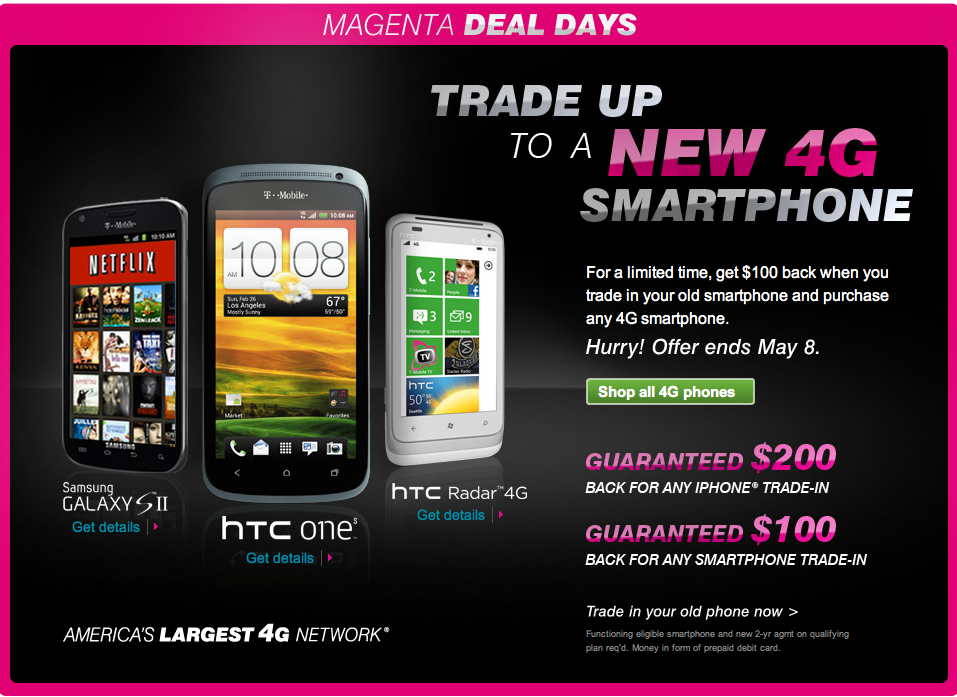 With the HTC One S dropping in less than 24 hours, take advantage of T-Mobile's "Magenta Deal Days" and get $100 back when you trade in your old smartphone and purchase any 4G smartphone. This offer begins tomorrow, April 25th and ends May 8th.
Thinking about getting rid of your iPhone, get a guaranteed $200 trade-in with the purchase of any T-Mobile 4G smartphone. That's a great deal and I would highly suggest giving the HTC One S a good look if you're thinking about dropping the iPhone off in the dumpster.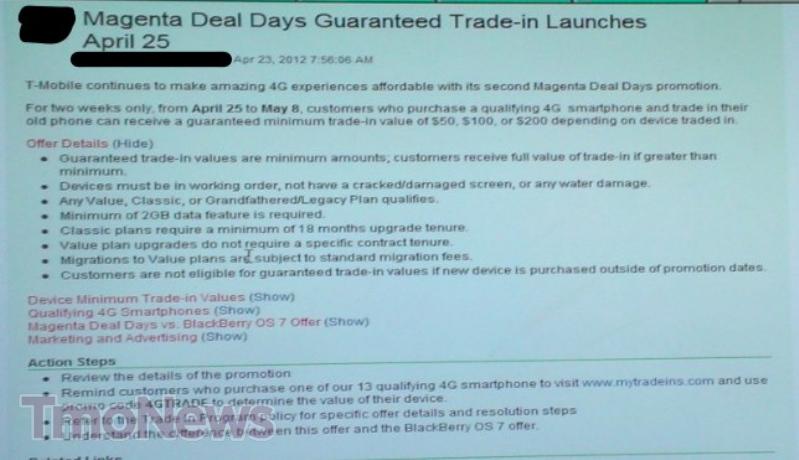 Spring Cleaning Can Pay Off at T-Mobile When Customers Purge Their Old Phone and Step Up To a New Smartphone Running on America's Largest 4G Network™
From April 25 to May 8, T-Mobile's "Magenta Deal Days" is back, offering customers a $50–$200 guaranteed credit when trading in an old cellphone for a super-fast 4G smartphone
BELLEVUE, Wash. — April 24, 2012 — Cleaning out your tech closet to trade in an old phone for a trade up to a super-fast 4G smartphone has never been easier or more affordable than during T-Mobile's new "Magenta Deal Days" promotion. Customers have the opportunity to receive a guaranteed trade-in value of $50–$200 when they exchange their old working phone and upgrade to a new, super-fast T-Mobile 4G smartphone. The two-week sale will take place from Wednesday, April 25, through Tuesday, May 8.
The "Magenta Deal Days" trade-in offer allows customers to receive a guaranteed value toward any           T-Mobile 4G smartphone, including the Samsung Galaxy S™ II, the HTC Radar ™ 4G and the hot new HTC One™ S powered by Android4.0(Ice Cream Sandwich) and equipped with a 4.3-inch qHD Super AMOLED screen, an 8-megapixel camera with "Pure Capture," DLNA and Beats Audio™ integration.1
"T-Mobile continues to make getting a great 4G smartphone easy with our latest 'Magenta Deal Days' promotion," said John Clelland, senior vice president of marketing, T-Mobile USA. "No matter how old their phone, and even if it's valued less, T-Mobile will offer customers a guaranteed minimum trade-in value so they can get rid of those old devices gathering dust and move up to a newer, faster T-Mobile 4G smartphone."
In partnership with The Wireless Source Inc. (TWS), a leader in consumer electronics collection programs, a trained T-Mobile representative will determine the guaranteed trade-in value of each device and a rebate card for the quoted amount will be given to the customer via a mail-in rebate process. Customers have the ability to check the guaranteed value of their device before going to a T-Mobile retail store by snapping the below QR code or going to http://m.t-mobile.com/4Gtrade to find out how much they will receive for the trade-in. In-store, customers receive a voucher, pre-paid shipping label and bubble pack mailer and simply ship the old phone to TWS at their convenience. They will then be sent a rebate card from TWS in the amount of the quote once the device is received in good working condition.2
New customers will be eligible for this deal when they trade in their old smartphone and sign up for a qualifying T-Mobile Classic or Value plan with a two-year agreement. Existing customers also can take advantage of this offer if they are eligible for an early upgrade, meaning 18 months or more on their current contract.
The following is a list of the guaranteed trade-in value T-Mobile will offer for old devices:
| | |
| --- | --- |
| Device Platform | Guaranteed Trade-In Value3 |
| iPhone (iOS) | $200.00 |
| Android, Blackberry, Windows, Symbian 9.0+ OS | $100.00 |
| Any Other Phone | $50.00 |
In addition to the Samsung Galaxy S II, HTC Radar  4G and HTC One S, other new smartphones customers can trade-up to as part of the "Magenta Deal Days" trade-in offer include the following:
       Nokia Lumia 710
       Samsung Exhibit™ II 4G
       Samsung Galaxy S® Blaze™ 4G
       T-Mobile myTouch® 4G Slide
       T-Mobile myTouch® Q
       T-Mobile myTouch® T
       BlackBerry® Bold™ 9900 4G
       LG® DoublePlay™
       HTC Amaze™ 4G
       HTC Sensation™ 4G
The "Magenta Deal Days" promotion will be available at participating T-Mobile retail stores nationwide. For more information about T-Mobile's products, services and the "Magenta Deal Days" promotion, visit http://t-mo.co/HkPh9J.
1 For the complete Beats Audio experience, Beats by Dr. Dre headphones required, may be sold separately.
2 Devices must meet minimum criteria (i.e., being fully functional, having an intact and working display and being free of liquid damage or corrosion).
3 Customers will receive a minimum of $200, $100 or $50 when they trade-in any working device to purchase a 4G smartphone. Customers who trade in a device that is valued at more than the minimum will receive the full value of their device. Customers who trade in a device that is worth less than the corresponding amounts above will receive the guaranteed minimum for their trade-in, provided the device meets the criteria specified above. Only one device can be traded in per subscription line.