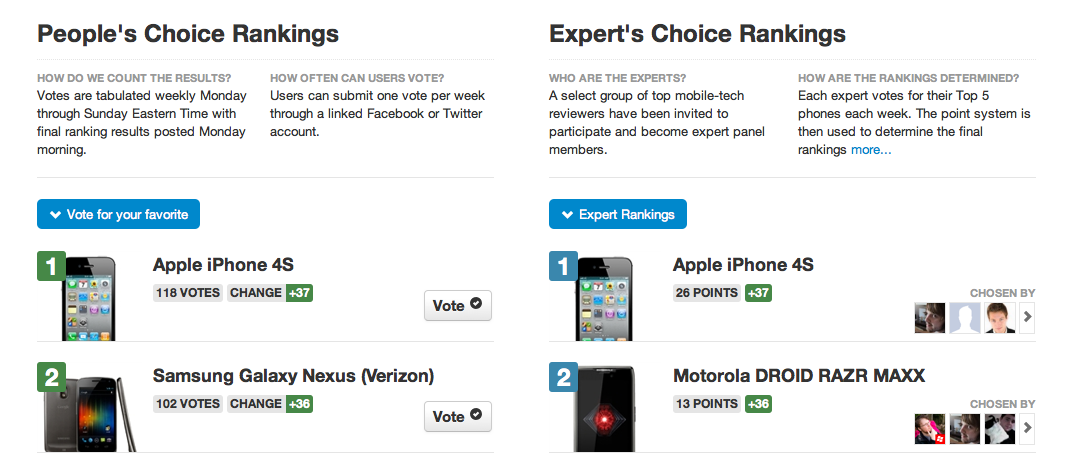 Look out, it's the newest feature the boys at PhoneDog are adding with the official launch of their Smartphone Ranking system. You've seen the billboard charts for music right? It's exactly like that, except this is for smartphones and not only am I part of their "Mobile Expert" team, but so are all of you. Rankings consist of two charts, a "People's Choice" chart (that's you) and a "Expert Ranking" chart (that's me). PhoneDog and their editorial staff will nominate the top devices each week and they and I urge you to agree with us or tell us why we're absolutely crazy for nominating the Blackberry Torch 9810 as one of the top smartphones of the week.
All nominee devices must be for sale in the U.S. market to be eligible for voting. Weekly rankings will be posted live every Monday by 12:00pm. Submit your vote for your favorite overall smartphone each week and catch what was number 1 the following week. PhoneDog will have guest experts taking part from across the tech blogosphere and we know you want to share your votes and work to get your favorite phone ranked at number 1.
Of course you can always read my summary for why I chose my top 5 and I'm sure many of you will like to tell me why I'm absolutely crazy for selecting the iPhone 4S ahead of the Samsung Galaxy S II.
Seriously though, there are no T-Mobile smartphones in the top 5, will you help me change that?
Smartphone Rankings <~~~~~~ Use this link
HOW DO WE COUNT THE RESULTS?
Votes are tabulated weekly Monday through Sunday Eastern Time with final ranking results posted Monday morning.
HOW OFTEN CAN USERS VOTE?
Users can submit one vote per week through a linked Facebook or Twitter account.
WHO ARE THE EXPERTS?
A select group of top mobile-tech reviewers have been invited to participate and become expert panel members.
How it works? Peoples Choice Rankings
Each week a user with a valid facebook or twitter account may cast one vote for their top smartphone from a list of nominee phones. Votes are tabulated Monday through Sunday with the final weekly results posted each Monday by 10am eastern time.
How it works? Mobile-Tech Experts Charts
Our exclusive panel of mobile-tech experts submit rankings for their Top 5 smartphones. A point system is then used to determine the weeks top rated device based on the expert votes. Each editors personal Top 5 and a summary of their ratings can be viewed on each experts personal ranking page.
5 points for each editors #1 phone
4 points for #2
3 points for #3
2 points for #4
1 point for #5