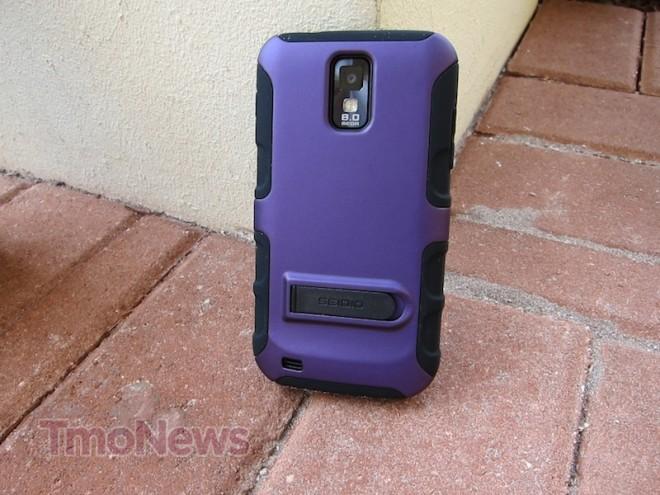 Update: We've finished the contest and closed out the comments. I'll have the winners announced on Monday!
Thanks to our great friends at Seidio, we're hooking you guys up with 10 Galaxy S II Active cases. That's right, we've got 10…TEN. You can win them in any color you want… so long as they are purple and black. So how do you win you ask? Well, that's a fine question. After long and thoughtful consideration, we're just going to pick random comments…that tell me why your Galaxy S II is your favorite phone ever! That's right, I want to hear something completely awesome…like the Galaxy S II helped you research medical aid for the elderly person who fell in front of you while you were collecting money for the homeless. Make us laugh, make us cry…just make it warm and feel good.
So here's what you do and you shall follow these instructions explicitly if you wish to win. You should throw your comment in the comment section below, use clean and appropriate language and tell us all about your obsession with the Galaxy S II. It's easy, straightforward and did I mention easy? Comments included from Twitter, Facebook or our Google+ pages will not be counted, all comments must be left on the blog.
The contest begins today, right now, this second, as soon as you read this all the way through midnight Friday evening. That gives you plenty of time to come up with a seriously awesome Galaxy S II story. You may enter one time and one time only and you must enter with your "real" email so we can get in touch with you. The rest of the rules and conditions are below so make sure you read them before entering. Ready, set, go.
Prize: 10 Seidio T-Mobile Galaxy S II Active Cases retail value US$34.95. Detailed information regarding prize is available via SeidioOnline.com.
Eligibility: Open to legal residents of the United States and Canada, age 18 or older. Do not participate in the Promotion if you are not physically located in the United States or Canada at time of entry.  Sweepstakes is void wherever prohibited by law.
Promotion Period: 10:00am February 20th – Midnight on February 25th, once 12:01am rolls around Saturday morning this contest is ova!
How To Play: Post an story in the comment section below that explains why you love your Galaxy S II so so so so so much.
Odds of Winning: The odds of winning are dependent on how many entries we have prior to each drawing.
Drawing Dates: On February 27th winners will be randomly selected from the comment selection by a team of judges to help determine which comments impress us the most.
Claiming Prizes And Shipping: Winners will be posted after each drawing at www.tmonews.coms.  Winners must contact us via email at david@tmonews.com within 24 hours of each drawing date and time. Prizes will be shipped within 7 days, unless supply constraints or weather delays our ability to obtain the devices for any reason. Winners are required to provide a copy of valid legal identification. along with a matching Facebook profile. Inside of the United States, the prize will be shipped via USPS ground. The winning participant(s) are responsible for providing us with the shipping address of their choice to receive the prize.
RELEASE: By entering the "Seidio Active Case for T-Mobile Galaxy S II Sweepstakes" (Promotion), participants agree, to the fullest extent permitted under applicable law, to release, discharge and hold harmless TmoNews their affiliates, their respective owners, and representatives from any and all damages, liabilities, costs and expenses which may arise out of participation in Promotion or out of the acceptance, use, or misuse of prizes. No substitution or transfer of prizes or cash redemptions permitted by the winner. Sponsor reserves the right to substitute for any reason whatsoever a prize (or portion thereof) of comparable or greater value, at their sole discretion. Prize is awarded "as is" with no warranty or guarantee, either expressed or implied by the Sponsor. The Winners are responsible for the reporting and payment of all taxes (if any) as well as any other costs and expenses associated with acceptance and use of prize not specified herein as being awarded.
GENERAL RULES AND REGULATIONS: By entering this Promotion, participants grant TmoNews the right, unless prohibited by law, to use their names, cities and states of residences, voices, pictures and likenesses, without compensation, notification or approval, for the purpose of advertising and publicizing the goods and services of the Promotion Entities and all matters related to the Promotion, in any manner or medium, now or hereafter known, throughout the world in perpetuity. Winner may be required to execute an affidavit of eligibility, liability release, tax acknowledgment form and, except where prohibited by law, a publicity release and return within five (5) business days of issuance of notification. Noncompliance within this time period or failure of potential winner to respond after three (3) notification attempts may result in disqualification and, at Sponsor's discretion, an alternate winner may be selected. If: (i) any prize or prize notification is returned as undeliverable, (ii) a potential Winner declines his or her prize, (iii) a potential Winner fails to comply with any of the Official Rules as outlined herein, such potential Winner will be disqualified and an alternate winner will be selected by random drawing at the Sponsor's sole discretion. The Promotion Entities expressly disclaim any responsibility and entrants agree to indemnify and hold harmless TmoNews Media from and against any and all claims, actions, demands and/or liability for injury, damage or loss whatsoever relating to or arising in connection with participation in this Promotion (regardless of the cause of such injury, damage or loss) and/or the delivery and/or subsequent use or misuse of any of the prizes awarded. Any comments deemed inappropriate or using vulgar/foul language may be disqualified from the contest at the discretion of contest organizers.