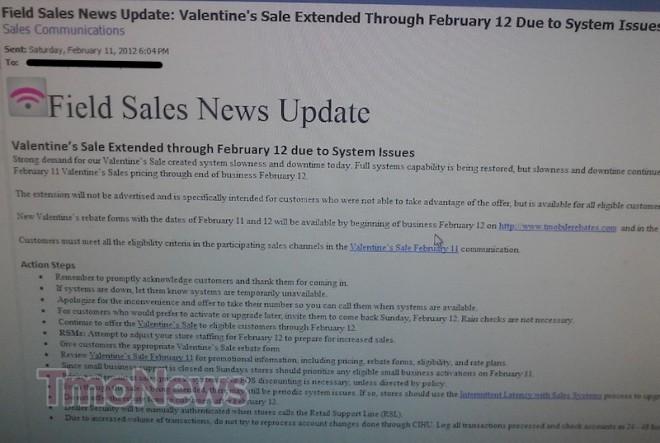 Editors Note: I've been told that some retail locations are opening an hour early, closing late to make sure they are able to service every customer who walks through the door today. Check with your local retail location to see if they have extended hours. 
With February 11th now in our rear-view mirror, those of us in the T-Mobile world are taking stock of yesterday's Valentine's Day sale. We're beginning to make a little more sense out of the system slowdown that appears to be the result of too many people shopping in T-Mobile stores at once. On the one hand, that's a great thing as this sale was obviously the "right" kind of sale to draw in customers, where the Value Plan sales had failed to draw in similar crowds. Unfortunately, that same crowd was also a contributing factor to the system slowdown that brings where we are today: an extra day for the sale. (This isn't the first instance we've seen a popular promotion leading to a system crash for the nations wireless carriers and it certainly won't be the last time either.)
In T-Mobile's own words: "Strong demand for our Valentine's Sale created system slowness and downtime today." We've been told that an email went out early this morning informing employees the problem had been fixed and all systems were "go." However, the question we're asking is…will the system hold up today? More importantly, given the popularity of yesterdays sale, do T-Mobile stores have enough inventory for a second day? We're being told that some stores are running low on popular devices so we would urge you to head out early if you weren't able to take advantage of the sale yesterday due to system troubles. I can only hope that customers who were unable to take advantage are/were informed that the sale has been extended into a second day.
Our wish is that T-Mobile can offset the frustrations from yesterday by doing the right thing and extending the sale into a second day. The flip-side to this sale for the employee is that I'm being told some employees who were scheduled yesterday are not scheduled today and are upset by the possibility of missed business. That's truly unfortunate and I completely understand their frustration with this whole experience.
All that being said, I hope we see another sale exactly like this soon as today showed us that when the promotion is the "right" offer, the customer will come. By offering something for both new and existing customers on both sets of rate plans, T-Mobile struck the right chord with the customer and they came in droves.
The T-Mobile Valentine's Day sale is extended until tomorrow because the entire system went down today.

"Valentine's Sale Extended through February 12 due to System Issues

Strong demand for our Valentine's Sale created system slowness and downtime today. Full systems capability is being restored, but slowness and downtime continues sporadically. Due to these issues, the Valentine's Sale will be extended through end of business tomorrow, Sunday, February 12. Pricing will remain at February 11 Valentine's Sales pricing through end of business February 12.

The extension will not be advertised and is specifically intended for customers who were not able to take advantage of the offer, but is available for all eligible customers on Sunday.

New Valentine's rebate forms with the dates of February 11 and 12 will be available by beginning of business February 12 on http://www.tmobilerebates.com and in the Valentine's Sale communication, however customers may still use the rebate form with just the February 11 date also.

Customers must meet all the eligibility criteria in the participating sales channels in the Valentine's Sale February 11 communication."