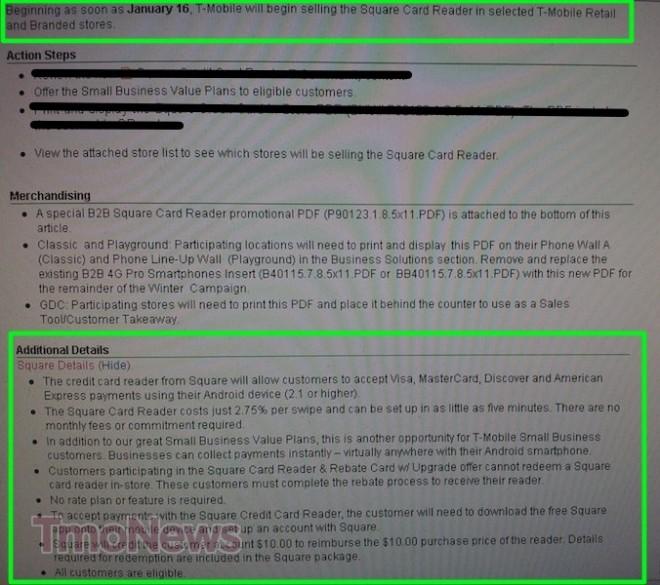 T-Mobile continues to throw some weight behind the mobile payment movement, as they have become the first wireless carrier to offer Square credit card readers at a number of their retail outlets. This isn't the first instance of T-Mobile utilizing the Square payment reader as a tool to lure in small business customers as they began offering Square readers to small business users with upgrades back in December. T-Mobile's new Square campaign will allow stores utilizing T-Mobile handsets to accept credit card payments in the U.S., anywhere, anytime. Money from Square transactions are then deposited into a bank account the following business day. Square is just one extra tool T-Mobile is adding to their small business offerings as they work to build up those services with equipment financing, trade-in services, in-store support all allowing "…small businesses to maximize their wireless investment and transform their business."
T-Mobile retail outlets carrying Square credit card readers are listed here.
Press Release:
Today, T-Mobile USA, Inc. reiterated its commitment to small business as the first wireless carrier to offer Square credit card readers from San Francisco-based Square, Inc. in select retail stores. When T-Mobile's fastest 4G smartphones running on America's Largest 4G Network®are combined with Square, small businesses can accept credit card payments in the U.S. nearly anywhere, anytime, with the money from transactions sent for deposit into their bank accounts the next business day. This easy-to-use solution, paired with T-Mobile's affordable small business plans, aggregated business applications, equipment financing and trade-in services, and in-store support, allows small businesses to maximize their wireless investment and transform their business.
Investment bank Barclays Capital estimates that U.S. mobile commerce sales hit $5.3 billion in 2011, up 83 percent from 20101. However, more than 26 million small businesses still do not accept credit card payment. The availability of Square card readers as an accessory in T-Mobile® retail stores will make it easy for many small businesses to accept credit card payments for the first time.
"T-Mobile understands my needs as a small business owner," said Nikki Halgren, owner of The Gleeful Peacock, a handmade jewelry business. "They not only keep me connected on the go, but they've made it easy for me to get paid fast with my T-Mobile smartphone and Square. T-Mobile has made it simple and, as a result, I've nearly doubled my business over last year."
"Small business customers are looking for a partner that will help them navigate the sometimes overwhelming and confusing wireless experience and provide the biggest bang for their buck," said Bruce McGregor, senior analyst with Current Analysis. "With their emerging portfolio of small business solutions, T-Mobile is taking the right steps to better cater to customers' needs for increased productivity via their mobile services."
"The success of our small business customers is important to us. Formerly 'cash only' small businesses can now simply and cost-effectively accept credit cards with their smartphone using Square, giving them an easy path to growth," said Matt Millen, vice president of small and medium business sales at T-Mobile. "As these businesses evaluate their wireless needs, T-Mobile is committed to providing quality of service, cost savings and connectivity that are a requirement for their success."
Small Business Plans
At T-Mobile, small business customers have the ability to tailor wireless plans to their needs with affordable, worry-free unlimited and flexible pooling plans. The T-Mobile Small Business Plan and Small Business Value Rate Plans offer exceptional value, consistent and simple pricing, handset choice and scalability to allow for business growth. T-Mobile's portfolio also includes well-priced pooling plans, which start at just $59.99 per month for two lines using 1000 Whenever Minutes with a two-year agreement.
Applications with a Mind for Business
To reduce the complexity and effort small businesses associate with finding and downloading the best business applications, T-Mobile offers the T-Mobile 4GPro App Pack, an aggregation of key business applications, such as DropBox, Evernote, Square, TripIt, Camscanner and LinkedIn, preloaded on select smartphones and tablets, such as the Android-based HTC® Amaze™ 4G and Samsung Galaxy S™ II. Further, by providing an easy path to cloud services like DropBox and Evernote, T-Mobile helps small businesses easily store and access the documents, files, images, and notes that will help them better run their business from virtually anywhere.
Other Services
T-Mobile is also making it easier and more convenient for small business customers to purchase, protect and pay for their mobile devices. When paired with the company's Value plans, T-Mobile's Equipment Installment Plan (EIP) can be used to finance most devices for more than 18 months. Through the company's Equipment Trade-In program, small business customers can utilize older or unused devices to offset the cost of new device purchases. With the company's convenient Premium Handset Protection program, customers are covered for loss, theft, damage or malfunction of their device – all at a predictable low cost.
In-store Small Business Support
Last year, T-Mobile began the rollout of a new global design format in nearly 400 U.S. stores to provide customers with a compelling retail experience and improve overall efficiency within the store. Each retail store has been redesigned to simplify the purchase process and includes seated areas that can be used for more in-depth small business conversations and consultations with knowledgeable retail associates.
To see a list of T-Mobile retail stores currently carrying Square, please visit http://business.t-mobile.com/small-business/buy-square-card-reader. Or, for more information about T-Mobile's small business offerings, go tohttp://business.t-mobile.com/small-business.