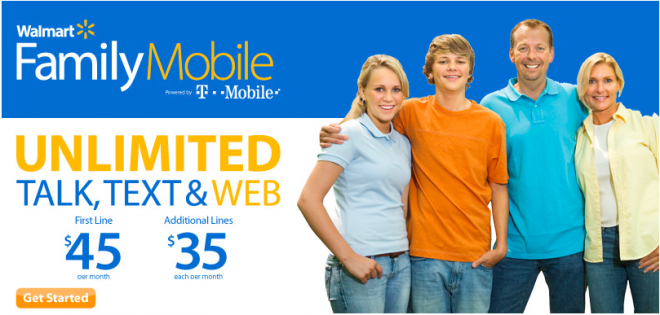 T-Mobile and Walmart's Family Mobile plan is now better than ever, adding Unlimited Web to their already affordable offer of Unlimited Talk and Text. Rolling out now, the new Walmart Family Mobile plan is only $45 per month for the first line and $35 for additional lines and is available at Walmart stores nationwide and Walmart.com.
According to the T-Mobile email that just hit our inbox, 44% of first-time smartphone buyers in 2012 say the cost of the data plan associated with a smartphone is the single biggest reason they have not purchased a smartphone before. Therefore, T-Mobile and Walmart's monthly postpaid, no-annual contract plan is "offering Unlimited Web service, providing full access to Web surfing, data and social media for all lines on the account and is one of the best value options available on any national carrier."
To encourage families to sign up right away, beginning today until March 16th, customers activating the new plan will receive the first 5GB's per month per line at up to 3G speeds until March 31st. Customers activating after March 16th can enjoy the first 250MB per month per line at up to 3G speeds.
So once again T-Mobile is playing fast and loose with the word unlimited as these technically "unlimited" data speeds are really only good for the first adopters who take advantage by signing up prior to March 16th. After March 31st, all plans go back to 250MB of unlimited 3G speeds only to limit the speeds to 2G upon surpassing the 250MB allotment. Having 5GB's for less than 60 days just seems like a tease and customers are bound to surpass that allotment in the first few months as they adjust to their new "unlimited" data caps. Still, you can't beat the price for customers who place data third on their list of wants underneath unlimited talk and text.