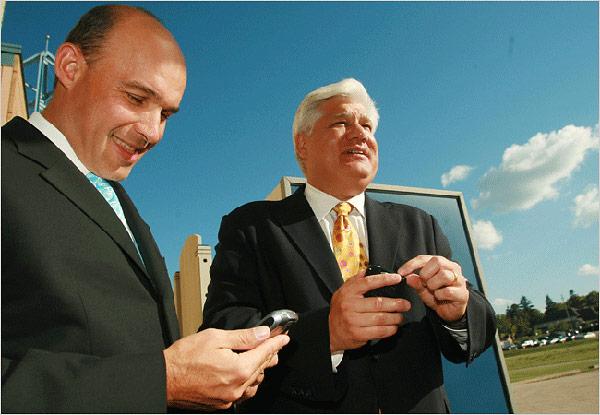 Unless you were busy watching yesterday's heart-pounding football action, you may have already read the reports surrounding RIM's Mike Lazaridis and Jim Balsillie resignation from their positions as Co-CEOs. Taking over for Jim and Mike will be "little-known company insider," Thorsten Heins, formerly RIM's Chief Operating Officer. RIM is calling this "a board and management shuffle," as Heins steps into one of the most difficult roles in all of telecommunications now. Heins has said he's "confident" in the lineup of Blackberry's existing handsets and that QNX will be the preferred platform of choice for the next decade.
Now, let's add a dose of humor here and consider the CEO revamp a bold but ultimately questionable move. So how can RIM truly change their company's position? As suggested by the man behind BrooksReview.net:
If I were CEO of RIM, here's what I would do:
Call a meeting of all top executives.
Pull my iPhone 4S out and rest it gently on the table in front of me.
Wait for dramatic effect.
Fire anyone not patient enough to wait for me to speak first.
Tell everyone left in the room that they have 3 months to bring me a working prototype that makes me want to use it over my iPhone. (While gesturing towards my iPhone already placed on the table.)
Fire anyone that asks "How?"
With everyone gone, hire a new executive team.
That's some half-hearted humor and as we get serious again, I understand that RIM wants an insider, someone already intimately familiar with their processes, execution and just general way of doing business running the show. Bringing in an outsider can be just as dangerous as continuing to let Mike and Jim run the company — that being said…RIM still needs to change its way of thinking and doing business. They also need a complete refocus on marketing, a new way to express that RIM remains "hip" however contrary that idea seems to be. I'm not suggesting that RIM should go all-in with Android as they've made clear that QNX is their future for the next 10 years. The good news is that RIM knows how to make great hardware…they really need to sit down and decide if QNX is really the right software to match it.
RIM, Wall Street Journal 1, 2 (subscription need)