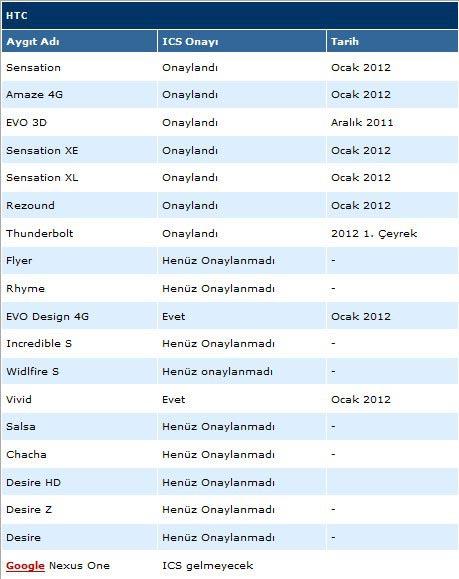 It was just two months ago that HTC began to outline its initial plans to deliver Android 4.0 Ice Cream Sandwich to some of its key devices. Those devices were the HTC Sensation (4G), HTC Sensation XL and HTC Sensation XE, HTC Rezound, HTC EVO 3D, HTC EVO Design 4G and HTC Amaze 4G. So there we have two high-profile T-Mobile devices on the list as first-run HTC devices to receive Ice Cream Sandwich.
Now, two months later, HTC Turkey has taken to Facebook using a table detailing devices that will receive the Android 4.0 Ice Cream Sandwich update along with an approximate timeframe for rollout. As it stands today, the list indicates that the HTC Sensation 4G and HTC Amaze 4G are on track for a January timeframe.
Obviously we're willing to give a little leniency here as the list also "confirms" a December 2011 date for EVO 3D, which is obviously a little behind schedule. This list isn't exactly groundbreaking, but it's awesome to have a current list on HTC's Ice Cream Sandwich plans.