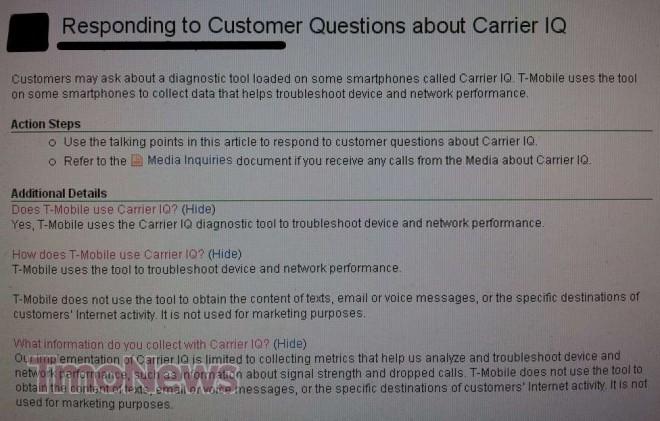 With the Carrier IQ story remaining in the headlines, T-Mobile, like AT&T and Sprint are playing a bit of defense by helping assure customers that this information is only used for information collecting purposes. To help any customers who might continue to have questions about this matter, T-Mobile has posted a short Q & A for front-line employees as well as a quick document on their support forums to help assure concerned customers.
One thing of note here is that T-Mobile will offer an option for business customers and not for consumer accounts. If you have true concerns about Carrier IQ, I'd highly suggest giving a look at the rest of the internal images after the text and seeing exactly what T-Mobile and Carrier IQ are doing with your data.
I'm of two minds here. The first part is that I don't mind that T-Mobile is capturing performance information, if it's being used to improve network efficiency, then I'm all for it. The second part of this concerns the capture of all of our keystroke in a syslog…that's concerning. The idea that carriers might not have known about this is worse because carriers are including applications on smartphones without fully understanding their function and that is cause for concern. Did the carriers not fully test this software being allowing it on their smartphone lineup? If this is an oversight, it should be corrected and immediately as the lawsuits (valid or not) are already beginning.
Give the following intel a read and let us know how you feel.
P.S. Lifehacker.com has a great guide for helping to determine if your smartphone contains the Carrier IQ software.