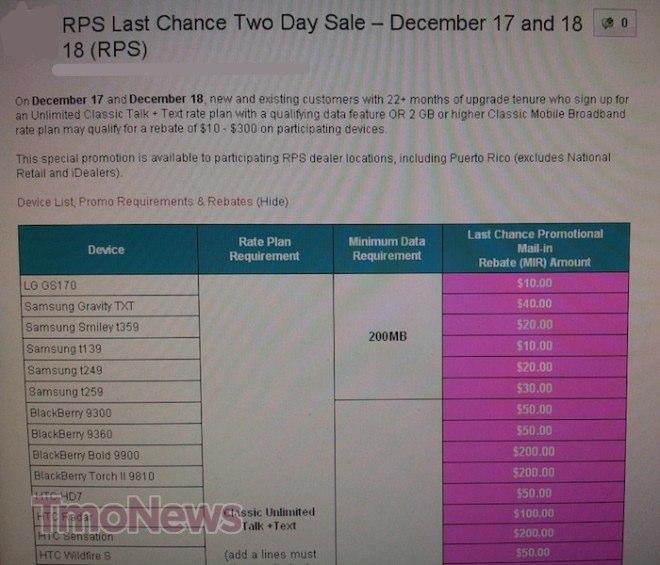 T-Mobile's independent network of indirect dealers are set to hold their very own "Last Chance Two Day Sale" on December 17th and 18th. The biggest difference between their sale and T-Mobile's corporate store offer? Their sale is for "…new and existing customers with 22+ months of upgrade tenure who sign up for an Unlimited Classic Talk + Text rate plan with qualifying data feature OR 2 GB or higher Classic Mobile Broadband rate plan." Customers who opt for the Classic rate plan option can receive anywhere in the neighborhood of $10 – $300 in savings depending on the device.
This promotion is only available to participating Retail Partner Store locations which does NOT include national retailers like Best Buy or Walmart. The local independent T-Mobile dealer with a store location that looks exactly like a T-Mobile corporate store location that you have in your neighborhood? That's where you can go to take advantage of this opportunity. T-Mobile's RPS locations can take part in both the Classic and Value plan offers.
So what kind of savings are we talking about? How about a promotional rebate for the Galaxy S II and HTC Amaze 4G with a 5GB data plan option? Try $200 off. Blackberry Bold 9900 or Blackberry Torch 9810? Try $200 off. myTouch 4G Slide? $150 off.
T-Mobile corporate stores will have their Value Plan only opportunity going for the very same weekend so depending on your rate plan preference, you've got a chance to score a great deal on T-Mobile smartphones and Mobile Broadband products this weekend.