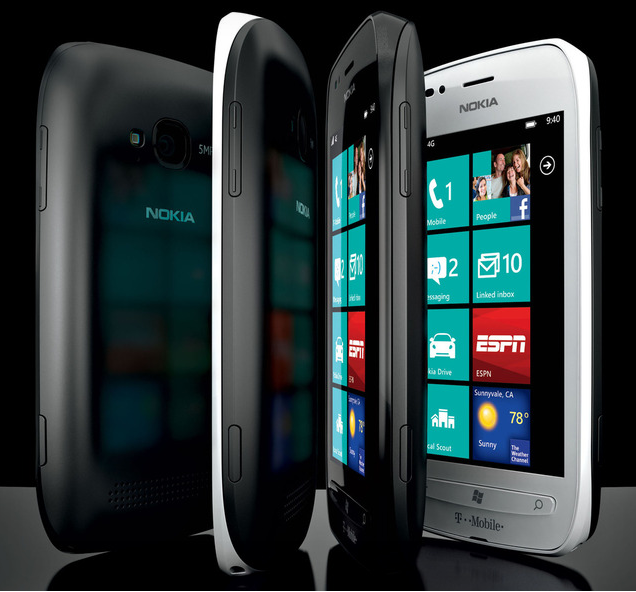 Ahead of todays planned joint press event with Nokia and T-Mobile, Nokia's press site has released a full data sheet along with images of T-Mobile's branded upcoming Lumia 710. The T-Mobile logo graces the bottom of the device right above the mic. The Lumia 710 will come preloaded with Nokia Drive, Microsoft Office Apps, The Weather Channel, ESPN, Netflix, App Highlights, T-Mobile TV, My Account, Slacker Radio and TeleNav GPS and Windows Phone 7.5 Mango.
The Lumia 710 is set to arrive on January 11th for $50 (we called January), presumably after a mail-in-rebate.
Full Press Release:
T-Mobile Brings Nokia Lumia 710 to the U.S. 
Nokia and T-Mobile deliver a leading entry-level Windows Phone experience to the nearly 150 million Americans still to make the transition to smartphones.
 BELLEVUE, Wash., and SUNNYVALE, Calif. — Dec. 14, 2011 — T-Mobile USA, Inc. and Nokia today announced the upcoming availability of the Nokia Lumia 710, the first Windows Phone from Nokia in the United States. Targeted at the nearly 150 million Americans who haven't purchased their first smartphones, the Nokia Lumia 710, capable of running on T-Mobile's 4G network,  delivers high-performance hardware, Nokia's best social and Internet experience, and access to popular smartphone applications and services from Windows Phone Marketplace.
Running on America's Largest 4G Network™, the Nokia Lumia 710 benefits from the unique people-first approach of Windows Phone, bringing together all interactions with family and friends in People Hub. The Nokia Lumia 710 also provides one-click access to popular services, such as Netflix, T-Mobile TV with mobile HD1 and a leading mobile Web experience with Internet Explorer® Mobile, Bing™ Search with voice activation and Local Scout for locally relevant search results. The smartphone also brings access to signature Nokia experiences, such as Nokia Drive for voice-guided, turn-by-turn navigation and ESPN for exclusive sports content.
"We're excited to team with Nokia in bringing its first Windows Phone to the U.S. with the elegantly designed Nokia Lumia 710," said Cole Brodman, chief marketing officer, T-Mobile USA. "Windows Phone offers a compelling mobile OS choice for people who want a smartphone built around them, their family and friends.  We expect it to play a more prominent role in our lineup and marketing efforts in 2012."
Today, people are increasingly upgrading to smartphones, and many are doing so for the first time. According to the NPD Group, U.S. smartphone sales reached 59 percent in the third quarter 2011, an increase of 13 percent since third quarter 2010. With an increasing demand for smartphones, the Nokia Lumia 710 offers a compelling experience aimed at addressing the needs of the nearly 150 million people in the U.S. who have yet to upgrade to their first smartphones.
"Our research shows nearly everybody in the U.S. wants a smartphone, but many believe they can't afford it," Brodman said. "That's where T-Mobile shines. Our Unlimited Value and Monthly4G plans make it more affordable than ever to step up to mobile data on our 4G network."
"The Nokia Lumia 710 is the perfect first-time smartphone: a well-designed product that delivers the most compelling Windows Phone experience in its price range and with access to great content and thousands of applications," said Chris Weber, president, Nokia Americas. "This is the perfect first Nokia Lumia experience and the start of our re-entry into the U.S. smartphone market."
Available in a black or white finish, the Nokia Lumia 710 features a 3.7-inch ClearBlack WVGA scratch-resistant display for outstanding outdoor viewing and a Qualcomm 1.4 GHz Snapdragon™ processor providing speedy access to entertainment and information on-the-go. It also features a 5-megapixel camera with Nokia's leading camera technology, enabling people to take pictures in almost any light condition and share on social networks in seconds. With the most integrated work-life solution of any mobile platform via the Windows Phone Office Hub and an interactive mobile gaming experience via Xbox LIVE®, the Nokia Lumia 710 is the complete all-round first-time smartphone experience.
Availability
The Nokia Lumia 710 is expected to be available at T-Mobile retail stores, select dealers and retailers nationwide, and online at http://www.t-mobile.com starting Jan. 11. The Nokia Lumia 710 is expected to cost $49.99 after a $50 mail-in-rebate card, with a two-year service agreement and qualifying Classic voice and data plan. For more information, visithttp://www.t-mobile.com/lumia.
For more information on T-Mobile's Unlimited Value and Monthly4G plans, see:http://family.t-mobile.com/phone-plans.