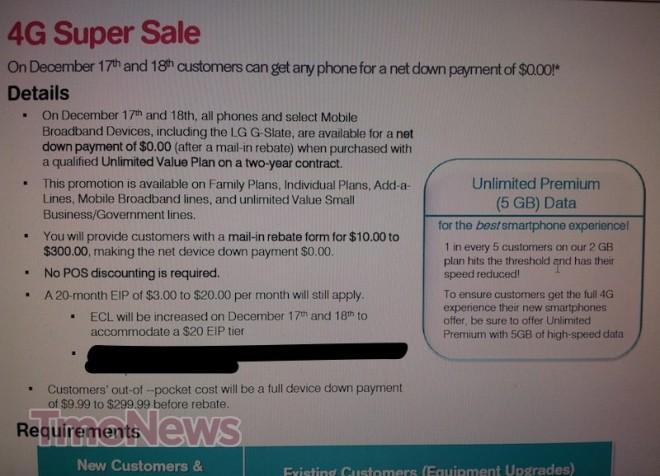 Update: On the heels of our report T-Mobile tweets the website for the "4G Super Sale."
Welcome to T-Mobile's "4G Super Sale" on December 17th and 18th where you'll find "all phones and select Mobile Broadband Devices, including the LG G-Slate, are available for a net down payment of $0.00 (after a mail-in rebate) when purchased with a qualified Unlimited Value Plan on a two-year contract." In other words, your out-of-pocket cost in store could be anywhere from $9.99 to $299.99 depending on the device you select but, you'll get all of that back on a mail-in rebate leaving you with an Equipment Installment Plan of anywhere between $3 and $20 for 20 months.
Qualifying customers include:
New customer who activate on a qualified unlimited Value Plan and a two-year contract
Single lines, Family Plans, Add-a-lines, Mobile Broadband, Small Business and Government lines
Existing customers must migrate to a qualified unlimited Value Plan and a two-year contract renewal
Existing customers on a Classic/Legacy rate plan must have at least 18 months of contract tenure
Existing Value plan customers who currently don't have an open EIP can qualify for the rebate
T-Mobile continues to push the Value Plan option as this is now the third "all hands day" sale in a row that offers a similar style deal all geared toward Value Plan customers. I can already see the comment section filled with angry complaints from Classic/Legacy plan customers who are beginning to feel shunned by a company they once applauded as the best thing to happen in wireless. If you're already on a Value Plan, this deal could save you some real money, but if you aren't already on the plan for one reason or another, you're stuck watching from the sidelines.
T-Mobile, stop this Value Plan sale only madness and let all of your customers partake in the fun of a pre-Christmas holiday sale. Do it for the children, and for the kittens.