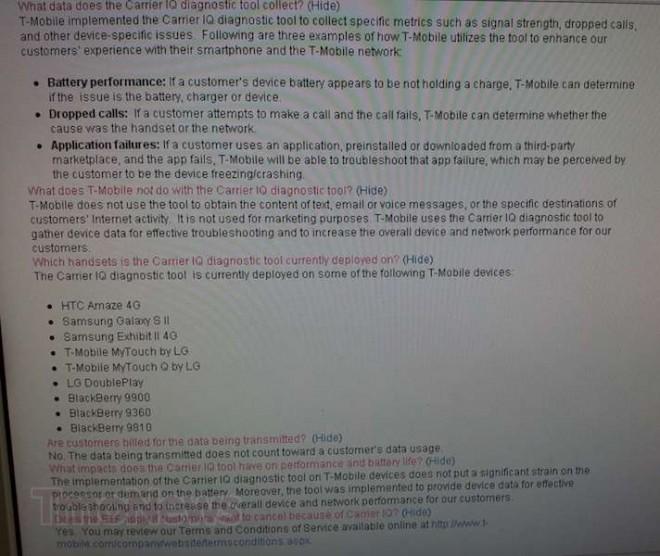 While T-Mobile once again reiterates their earlier point that they do not use the Carrier IQ software to "obtain the content of text, email or voice messages, or the specific destinations of customers' internet activity," some of you have asked us for a breakdown of T-Mobile's current handsets that currently have this software.
HTC Amaze 4G
Samsung Galaxy S II
Samsung Exhibit II 4G
T-Mobile myTouch by LG
T-Mobile myTouch Q by LG
LG DoublePlay
Blackberry 9900
Blackberry 9360
Blackberry 9810
With the knowledge as to what handsets have the software, let's get a better understanding of how T-Mobile uses the Carrier IQ software:
Battery performance: If a customer's device battery appears not to be holding a charge, T-Mobile can determine if the issue is the battery, charger or device
Dropped calls: If a customer attempts to make a call and the call fails, T-Mobile can determine whether the cause was the handset or the network
Application failures: If a customer uses an application, preinstalled or downloaded from a third-party marketplace, and the app fails, T-Mobile will be able to troubleshoot that app failure, which may be perceived by the customer to be the device freezing/crashing
With three class action suits already filed and at least one United States Senator looking for answers, the Carrier IQ software "issue" is not likely to be put to rest anytime soon. However, If you're looking some further reading, Mashable Editor-in-Chief Lance Ulanoff did an editorial that might help you decide on your own if Carrier IQ is more misunderstood than evil.