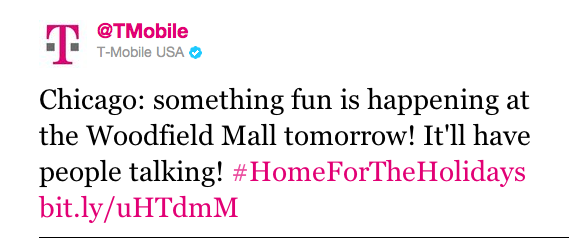 From ChicagoNow.com: 
T-Mobile is taking over the mall for a very special holiday event. Throughout the day, 100 Chicago-area women, joined by Carly Foulkes, T-Mobile's TV spokesmodel, will be surprising audiences with a special musical performance of "Home for the Holidays." The production, directed by Alfonso Gomez-Rejon (known for directing multiple episodes of Glee), will be filmed and posted to T-Mobile's YouTube channel next week.
We don't know what T-Mobile has up their sleeves, however Chicago-based customers should take note of "something fun" going down tomorrow at Chicago-land's Woodfield Mall. Let me just say that this is one of my favorite malls and usually a great spot for companies to hold special events. We're not sure when or if T-Mobile will follow up with another teaser telling us when and where to be but if they do, you know we'll keep you informed!