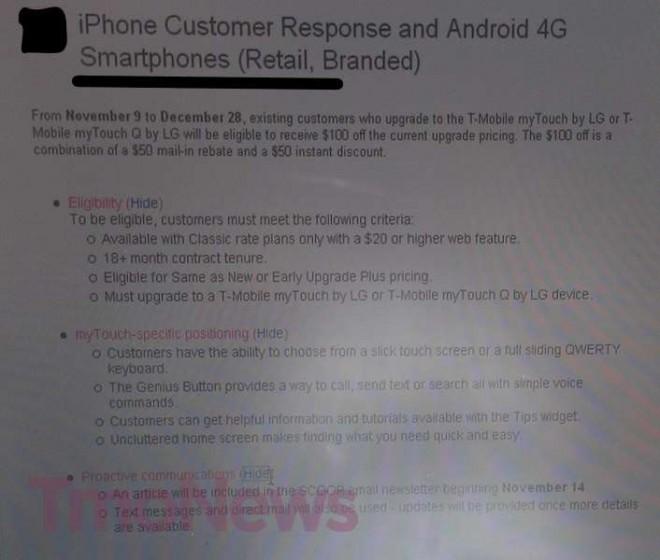 T-Mobile's newest promotion is a kinda, sorta response to the iPhone but more importantly, it's available for their existing customers. Too often T-Mobile's promotions are only available to new customers so we're happy (actually we're thrilled) to see something that takes care of the T-Mobile faithful. The myTouch by LG models won't satisfy the urges of the Galaxy S II crowd but they are still very good mid-range Android devices and are 4G ready.
According to this document that just hit our inbox, from November 9th through December 28th, "existing customers who upgrade to the T-Mobile myTouch by LG or T-Mobile myTouch Q by LG will be eligible to receive $100 off the current upgrade pricing. The $100 off is a combination of a $50 mail-in-rebate and a $50 discount."
Qualifications:
Available with Classic rate plans only with a $20 or higher web feature
18+ month contract tenure
Eligible for Same as new or Early Upgrade pricing
Must upgrade to a T-Mobile myTouch by LG or T-Mobile myTouch Q by LG device
Want to see the myTouch by LG devices in action, check out these unboxing videos.