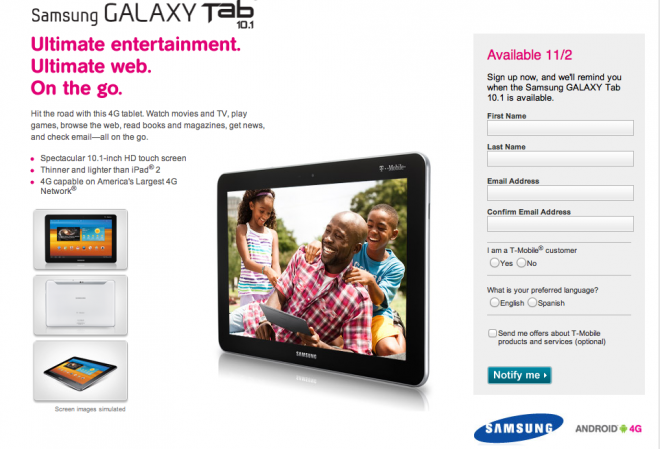 We've been waiting to hear official word from Magenta regarding release dates for their next series of tablets and now thanks to the sign-up pages for both the Samsung Galaxy Tab 10.1 and T-Mobile Springboard, we know exactly when both will arrive.
The T-Mobile Springboard, Huawei's first tablet offering with T-mobile is set to arrive November 9th and if the crazy rumors we're hearing are right, this 7″ tablet could arrive with a low low price of $179.99. Ever since our first ninja rumor regarding the Springboard, we've been told it would come in below $200 pricing on a two year contract but we thought that would meant a $199.99 price tag. If this is indeed true and the tablet arrives with a $179.99 price tag on a two year contract, it's an incredible deal. The Springboard features a 7? HD display, 1.2GHz dual-core processor, SD card slot for up to 32GB of expandable memory, Adobe Flash, 5 megapixel rear camera, 1.3 megapixel front facing camera and 720p video recording.
The Galaxy Tab 10.1 is marked for a November 2nd release and will be released along with a number of handsets that day. The Samsung Galaxy Tab 10.1 comes 4G ready in a 1.2 package featuring a 10.1? HD display along with a Tegra 2 processor, Adobe Flash support along with pre-installed apps such as T-Mobile TV, Samsung Media Hub, Asphalt 6, Sim City Deluxe Demo, Zinio and more. No word on pricing.
If you want more details prior to release sign up below to learn more.