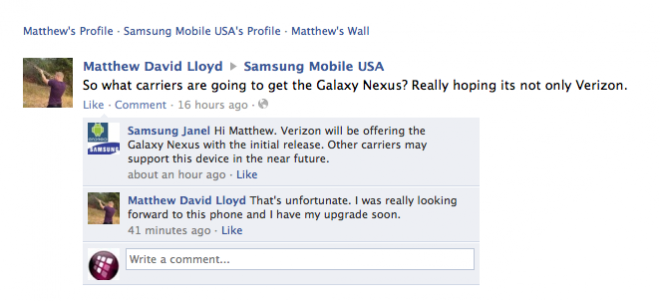 Update: Samsung Mobile USA has updated their Facebook post with a "no US carriers determined yet. Stay tuned for updates."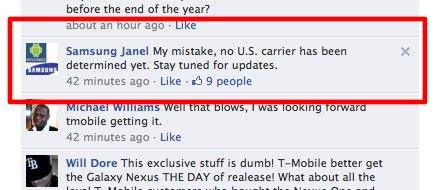 I'm not sure if we should be disappointed in this news or hopeful. On the one hand, there was almost no question that Verizon would be the exclusive carrier of the Galaxy Nexus initially. That rumor has been floating around for quite some time so we're not exactly surprised to see it come to fruition courtesy of Samsung's official Mobile USA Facebook page. When pinged by a follower regarding carrier availability, Samsung responded with:
"…Verizon will be offering the Galaxy Nexus with the initial release. Other carriers may support this device in the near future."
On the flip side, this quote leaves plenty of opportunity for other carriers, like T-Mobile to follow up with support later on. Verizon's exclusive carrier rights could last for 30, 60 or even 90 days so it might not be a lengthy wait before Magenta fans can pick up a Galaxy Nexus that's HSPA+ ready. We know a compatible model exists and with Samsung confirming the specs last night we know that all hope is not lost.