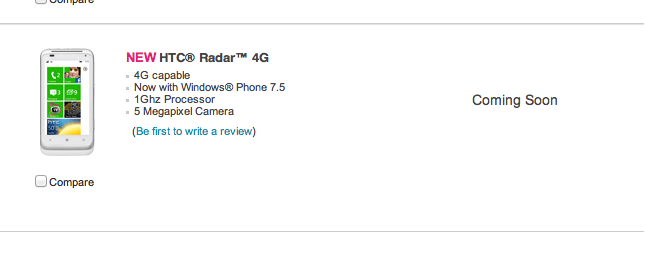 While we're definitely riding on an Ice Cream Sandwich high right now, T-Mobile has posted both the HTC Radar 4G and LG DoublePlay up on their website as "coming soon." We're not sure when exactly these surfaced, but given their presence we can't imagine either phone isn't on course for an upcoming launch. Current rumors, based on the roadmap we posted at the beginning of October still peg both phones for a November 2nd launch though we hope T-Mobile has accelerated those plans.
It's been a long time since Windows Phone 7 fans on T-Mobile received anything new to be excited about so we're definitely on board with T-Mobile releasing this one sooner rather than later. The DoublePlay is a different animal with its two screen approach and claims of super multitasking abilities. The unique design is one we'll have to get our own hands on before coming to a verdict but we're certainly going to keep an eye on how it performs to see if other manufacturers might try LG's bold approach to two screens.
As a bonus, we've included the press images for the HTC Radar 4G, although you can just watch one of the many hands-on videos floating around the web for a better look.