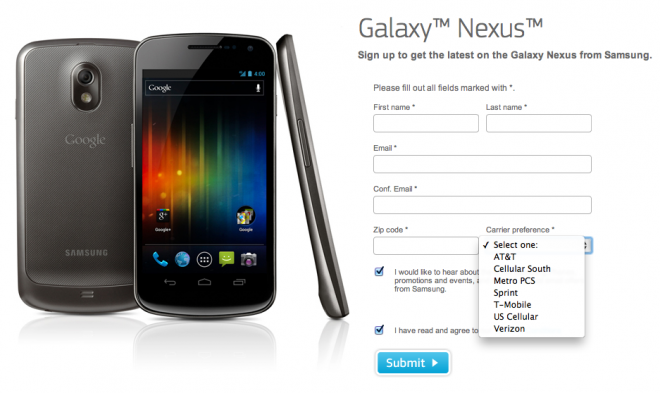 I'll be perfectly honest and say I've resisted posting this page because far too many people are reading far too much into it. Let's be perfectly clear and state unequivocally that this page DOES NOT indicate which carriers will receive the Galaxy Nexus. We saw the very same thing with the Galaxy S II, seven carriers listed…only three sell the phone.
So what does this page show? Well aside from trying to get you on Samsung's future email with special events/news it is also in some part data mining for carrier demand. They are in fact, trying to determine which carriers should get the phone (and likely future phones) based on demand levels. In other words, nothing on this sign-up page indicates which carriers will actually receive or support the device,  minus Verizon of course. Of course event thousands, or tens of thousands of signatures won't guarantee anything.
So please, don't read more into this than necessary.
You should however, sign up under T-Mobile and show how much demand exists from the Magenta faithful.