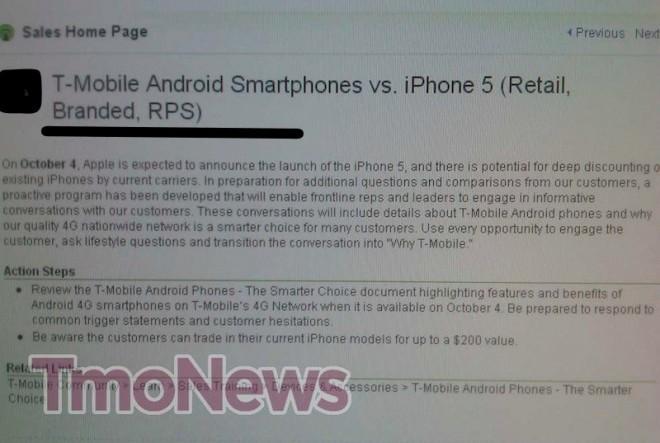 T-Mobile is ramping up their "attack the iPhone" mode before tomorrows expected iPhone 5 announcement. T-Mobile believes that customers who come into their retail stores will be wiling to have:
 "…engage in informative conversations with our customers. These conversations will include many details about T-Mobile Android phones and why our quality 4G nationwide network is a smarter choice for many customers. Use every opportunity to engage the customer, ask lifestyle questions and transition the conversation into 'Why T-Mobile.'"
I honestly hope that T-Mobile's entire "combat the iPhone" approach doesn't rest on conversations with customers inside their retail stores. If so…just hand the company over to AT&T now. This is exactly the kind of poor approach that has caused T-Mobile and specifically the reps in stores hardship. This isn't how you combat the widespread appeal of the worlds most popular smartphone. Saying "Android is better" isn't very convincing.
Let's go back in time for a minute to last November where T-Mobile CEO Philip Humm blamed the lack of the iPhone for poor US sales. Now let's fast forward to the last 3 weeks which has seen at least three occasions where T-Mobile's CMO has stated that the iPhone 5 is not arriving on T-Mobile. Some of you have hypothesized that this could mean the iPhone 4S is the expect launch device for T-Mobile given the specific use of the iPhone 5 name in the CMO statements. On that note I ask you? Why release this sheet to sales reps? Why prepare them to combat customer questions surrounding the iPhone if the iPhone is coming? Why combat your own device?
We'll know all the answers tomorrow but I'm more convinced than ever that tomorrow will be a huge letdown for T-Mobile customers who had high hopes that this would finally be the time for Magenta to get some Apple love.