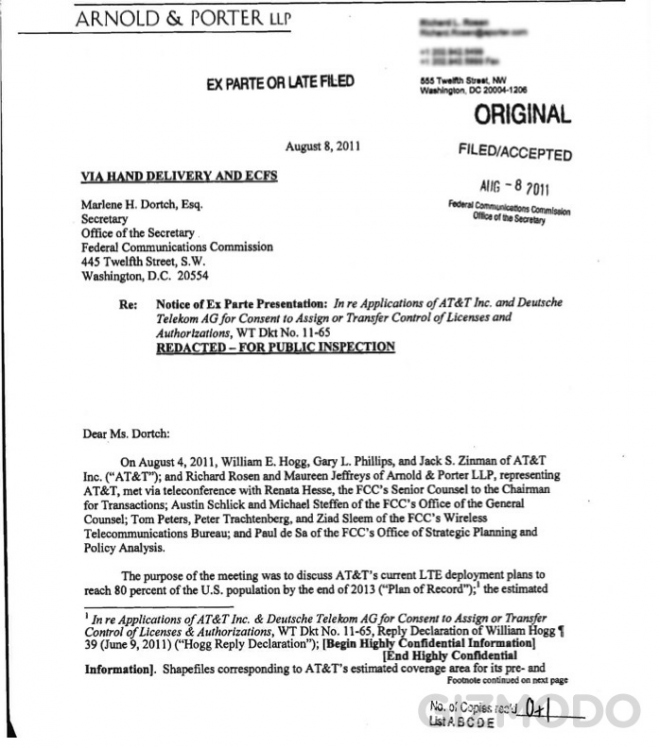 Last weeks accidentally leaked document posted on the FCC website by the law firm employed by AT&T was taken down as fast as it was put up and unintentionally revealed some of AT&T's LTE plans including the cost for AT&T to build out from its 80% "this is all we can afford to build" claim to the 97% it wishes to build. What fun would it be if the entire document didn't leak and thanks to the folks at Gizmodo that is exactly what has happened. Totaling six pages the full letter discusses AT&T's plan to cover 70 million Americans with LTE by the end of this year, 170 million by the end of 2012 and 250 million by the end of 2013.
The 97% of Americans they are promising to cover and using as a staple part of their message to the FCC will take almost six years to complete. In other words, if the deal closes in 2012 it will be 2018 before the true benefits of the T-Mobile purchase come to fruition. An interesting note is that AT&T didn't plan to hit 250 million until 2014 prior to the announcement of the T-Mobile purchase.
The letter continues to layout how AT&T senior management didn't believe they could cover more than 80% of the country with LTE even so AT&T's marketing department thought otherwise. AT&T claims that the T-Mobile transaction, given the new economies of scale with the takeover allows them to hit that 97% goal. Of course we'd be remiss to not mention yet again the notion that AT&T believed they could build out that 97% on their own using $3.8 billion in capital against the $39 billion they are spending on T-Mobile's spectrum.
AT&T continues to say this document is no big deal and doesn't reveal anything new or potentially damaging which is why we're reposting it for you to see thanks to the boys at Gizmodo. Enjoy all six pages!