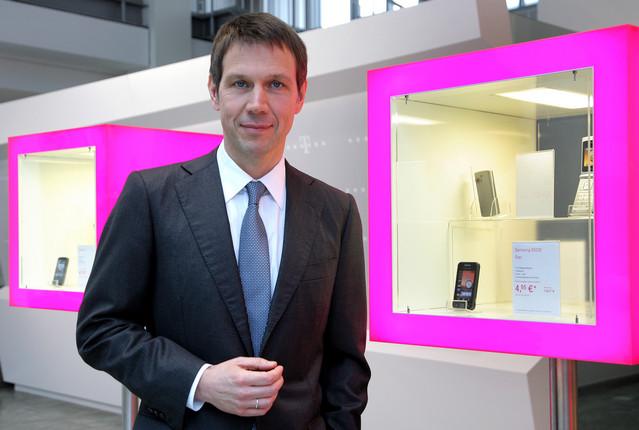 While we await Deutsche Telekom and T-Mobile USA's second quarter numbers set to be released sometime tomorrow an article coming out of Bloomberg shows analyst concern that T-Mobile USA is being left behind by their parent company. T-Mobile USA is expected to see a net contract customer loss of close to 350,000 customers from last quarter according to UniCredit SpA analyst Thomas Friedrich. That would  bring their total contract losses from the last quarter of 2010 to more than 1 million leaving just 25.6 million contract customers on the network out of less than 33 million in total. T-Mobile USA has all but dropped their plans to build out an LTE network on top of their existing HSPA+ network in light of the March 20th deal to sell to AT&T.
The March 20th deal to sell T-Mobile USA to AT&T faces opposition from some U.S. lawmakers, who say the creation of the largest U.S. wireless operator would increase fees and stifle competition. T-Mobile, already losing customers because it doesn't carry Apple Inc.'s iPhone, risks further defections after it dropped plans to build a faster network based on technology used by rivals including Verizon Wireless.
Furthermore, since the first quarter of 2011 Deutsche Telekom has placed T-Mobile USA as "discontinued operations" in its earnings report. While T-Mobile USA accounted for 26% of Deutsche Telekom revenue in 2010 there is concern from the Deutsche Telekom board that CEO Rene Obermann isn't doing enough to ensure that T-Mobile USA remains competitive as the AT&T deal faces an uphill regulatory review. While T-Mobile stands to receive $3 billion in cash and over $3 billion more in spectrum from AT&T should the deal not receive approval there is a clear concern that T-Mobile isn't doing enough to retain customers.
Still, with customers already wary of signing contracts amid unclear ownership of the brand, T-Mobile USA isn't doing enough to retain them with popular devices and new marketing initiatives, said Courtney Munroe, an analyst at Framingham, Massachusetts-based IDC. -Mobile "is not as edgy as they used to be," he said. "AT&T has been very aggressive. Verizon has done surprisingly well. Sprint arrested its downward spiral. They've gotten good devices. The competition has gotten very stiff."
The median estimate for T-Mobile USA's contract-customer losses during the second quarter was around 200,000 according to a survey of eight analysts. The bottom line remains that T-Mobile USA has lost the confidence of their Deutsche Telekom overlords which risks T-Mobile's already precarious position as the AT&T deal continues the regulatory approval process.