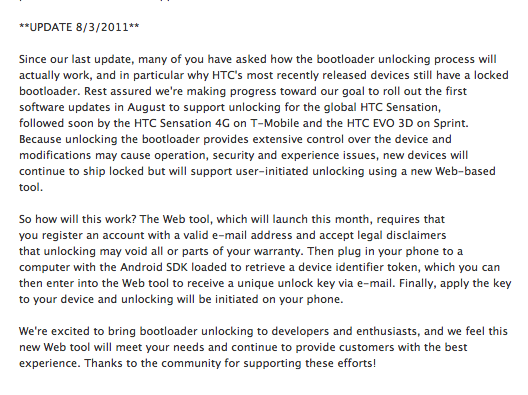 The good folks at HTC have come through and fulfilled their promise to provide us with info on the unlocked boot loader situation, specifically with the HTC Sensation 4G. So let's just right to the important details and lay out HTC's plans for the unlocked bootloader:
New devices will continue to ships with a locked boot loader
HTC will support unlocking future devices with a web-based tool
The HTC Sensation 4G (and non-U.S. version) will be first to to receive an unlocked boot loader using the web-based tool but first comes a small software update to properly use the web-based tool
The actual bootloader process takes place via the web-based tool provided you give HTC an email address and acknowledge that you are aware of what you are doing and aware of the risks involved
Plug the device into the computer with the Android SDK loaded and retrieve a device identifier token which you will receive via email and then plug into the web-based tool
Unlocking begins
Unlocked bootloader
Happy face :-)
This is a great way for HTC to manage the process and allow for those of us who would want to take advantage of the unlocked bootloader world while still ensuring that the everyday user isn't going to damage their device. Good news for everyone. No word on the actual date HTC will start this process but as they've stated we expect it to happen sometime this month.