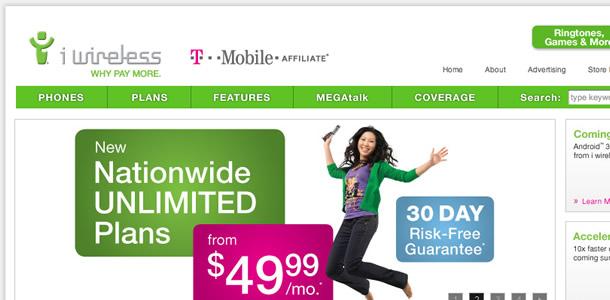 T-Mobile dealers are feeling the heat over a potential AT&T/T-Mobile dealer with serious concerns about roaming and partnerships after a deal has gone through. In a filing with the FCC, Iowa Wireless Services, 54% owned by T-Mobile makes its case that it simply doesn't trust AT&T regarding the effects of the merger on their business.
"Iowa Wireless has not been able to obtain any information regarding how—if at all—AT&T will incorporate Iowa Wireless into its long-term plans, nor has Iowa Wireless been able to determine what impact, if any, the transaction will have on Iowa Wireless's rural customers with respect to continued network access at reasonable rates," the company writes.
The problem isn't a lack of communication between AT&T and Iowa Wireless Services, it's the latter company's doubts on how far AT&T will go to follow through with their words.
"AT&T has recently communicated to Iowa Wireless that AT&T will, consistent with its practice in similar transactions, honor any contractual and legal obligations arising out of the T-Mobile acquisition," the smaller carrier writes.
Iowa Wireless Services faces a number of concerns over the deal especially considering AT&T's pledge to shutdown T-Mobile's 3G network to re-farm that spectrum for LTE leaving Iowa Wireless customers stranded. Doing so would actually lead to less spectrum and less broadband in rural areas according to Iowa Wireless Services going against a major selling point for AT&T on the deal. Going so far to say that some rural carriers haven't started to deploy wireless broadband in their communities because of concerns over what AT&T plans to do with T-Mobile spectrum.
The bottom line here seems to be that AT&T is spending more time reaching out to unions and groups that don't really have any standing to lose by supporting this deal like the Filipino American Arts Exposition or the National Latina Business Women's Association. Two fine groups to be sure but what do they have invested in AT&T or T-Mobile? The people they aren't asking about the deal, those who whose livelihoods depend on T-Mobile's existence are of course having their opinions and questions ignored by the AT&T machine.
Daniel Burke, a major T-Mobile dealer in the Boston Area which sells under the name Custom Wireless Brands sums this all up quite well has signed multi-year contracts with T-mobile and AT&T hasn't given him any sense as to whether or not they will continue to honor them.
"As a small business owner and operator of one of the largest T-Mobile dealerships in New England, the Acquisition represents the likely demise of a business I have invested considerable time and resources to build over the last 12-plus years," Burke writes.
But hey, the deal is supposed to create jobs right? RIGHT?
Big thanks to Sascha Segan over at PCMag for bringing this to light.