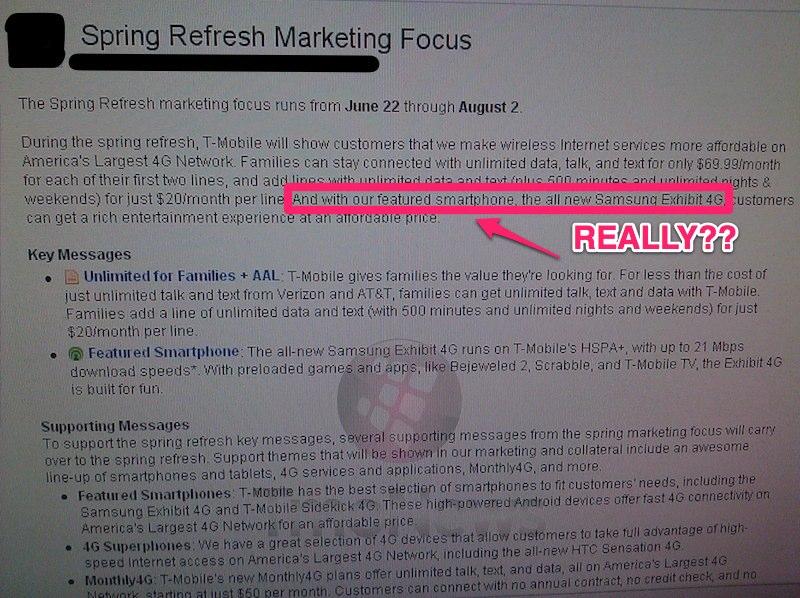 T-Mobile wants to come on strong this Spring with a marketing focus that emphasizes their industry leading value and featured smartphones such as the Samsung Exhibit 4G. Wait what? The Samsung Exhibit 4G? That's the phone that is going to be emphasized for Spring marketing? Who on earth is running this show anymore? Didn't I just write about this?
Now I understand that in order to emphasize the "affordable" part of this Spring focus there is an argument to be made for showcasing an affordable smartphone. Why can't we have the best of both worlds though? A smartphone that truly competes with the big players on other networks like the HTC Sensation 4G running on T-Mobile's best value network? Can't we make an argument for that as well?
I've always said and these words have been tirelessly echoed in the comment section that part of T-Mobile's biggest problem with luring away the data-heavy big dollar customers from other carriers was a lack of powerful smartphones. With the T-Mobile G2x and the HTC Sensation 4G T-Mobile has put itself right in the running now for best smartphone lineup and that's what should be emphasized. The Samsung Exhibit 4G is a great phone for a great price but it's not the phone T-Mobile should put front and center. That's my two cents anyway.