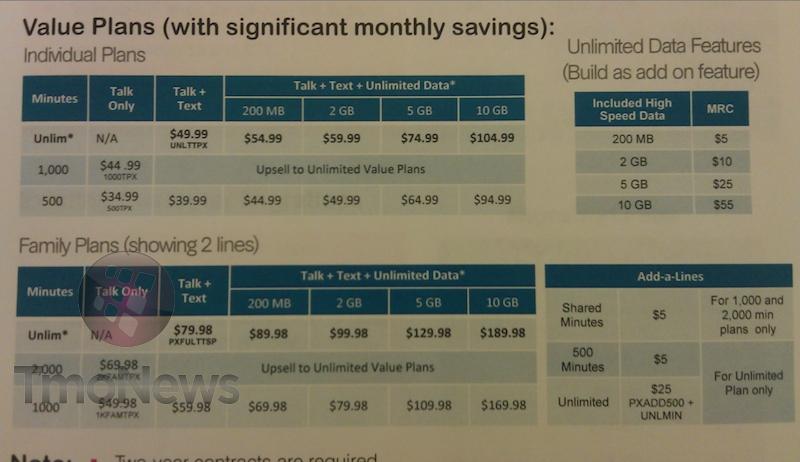 The news of T-Mobile's revamped rate plans has been met with trepidation as it's beginning to feel like T-Mobile can't hit a sweet spot and constantly changes up their price plan offerings. Once again they are trying some drastic changes just as they did with the announcement of the Even More and Even More Plus plans. As we first posted this morning T-Mobile is doing away with Even More Plus plans in lieu of "Value" plans and "Classic" plans which is the newly renamed Even More offering.
T-Mobile will position the new Value plan as the most inexpensive postpaid rate plan they offer along with the pitch that it doesn't require a data plan. It does however require a two year contract much to the dismay of Even More Plus users who won't see any reason to migrate over if they wish to remain sans contract. Along with the two year contract, subsidized handset pricing is a thing of the past for Value plans as customers will pay the full price of the handset though they may do so over a 21 month timeframe.
The obvious emphasis here is the savings customer will receive over the rebranded "Classic" plans over the "Value" plans because of the lower monthly rates. Customers who opt for the Value plan will make an initial down payment equal to the price of the phone on a Classic plan and have an additional 20 payments for the overall cost of the phone. For instance the Classic cost of the HTC Sensation 4G is $249.99 with a full retail cost of $549.99. So the initial payment on a Value plan will be $249.99 with installments of the remaining $300.00. For those remaining 20 months customers will pay $15 a month.
Take a good look at the gallery of ninja shots we've obtained to get a glimpse of what's changing and what isn't. Remember, we're still around a month away from the expected launch so anything can change. There are plenty of remaining holes that we need to fill in order to get a clear picture of exactly whats going to happen and when. Still, with this gallery you can get a better idea of whats coming, going, staying, leaving and flying away.