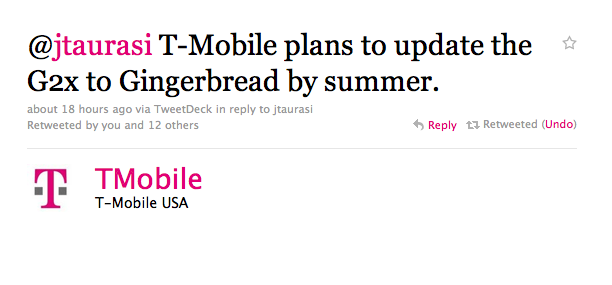 T-Mobile must love tweeting or I should saying using tweets to tease G2x owners on the arrival date of Gingerbread. At the end of April T-Mobile responded to a question asked via Twitter and stated "Gingerbread is coming to the G2x soon. You won't have to wait long." Fast forward thirty days and we're back in the same scenario with T-Mobile responding to another question regarding Gingerbread on the G2x and responding with "T-Mobile plans to update the G2x to Gingerbread by summer."
If only the definition of Summer wasn't anytime in a ninety day period though we understand the reason to avoid giving an actual target date and later miss it. Unfortunately "coming soon" and "summer" are a little vague and we would like to see something a little more concrete. Alas that's just us being impatient and we know we'll get it when it's ready.
While G2x owners wait they can take an early look at Gingerbread running on the G2x by hitting the link below.