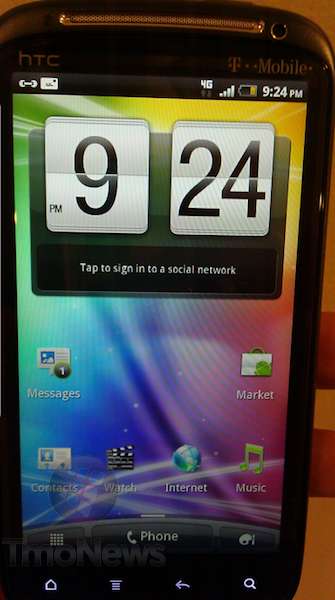 Since we know how much you all love in the wild shots of upcoming T-Mobile phones we thought we'd oblige with some pics of the HTC Sensation 4G. Easily one of the hottest T-Mobile phones to hit the market in recent memory the Sensation 4G brings 4.3″ Android goodness to Magenta shelves. Still scheduled for a June 8th release one of our ninjas recently got some hands on time with the device and was kind enough to send in some pics and show some TmoNews love while they were at it. The Sensation 4G arrival on T-Mobile was no mystery as it was announced right from the get go as a Magenta exclusive but this is the first time we're seeing a T-Mobile branded edition hanging out in the wild.
As a quick refresh the Sensation 4G rocks a dual-core Qualcomm Snapdragon 1.2GHz processor, HTC Sense 3.0, 1080p recording, 8 megapixel camera, qHD screen and of course T-Mobile 4G.
Check out the gallery!
Thanks Jonathan from Queens!