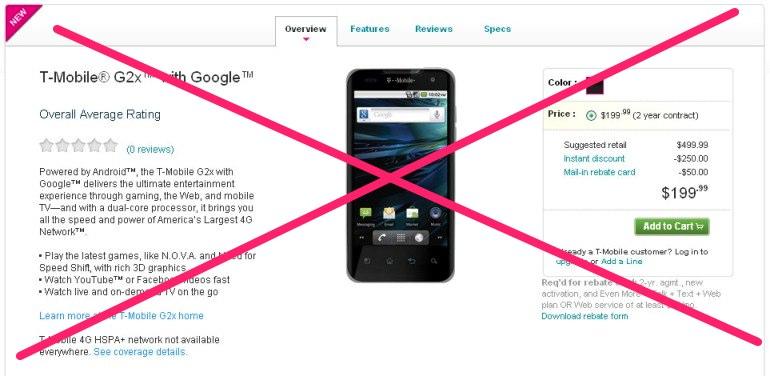 Updated: We pinged T-Mobile this morning regarding this issue and they followed up via Twitter stating "The T-Mobile G2x has been very popular and high demand has resulted in inventory constraints, which we are working to address. We are working with LG to address inventory constraints and expect to return to normal levels in the coming weeks." We've gone back to our original source who reverified their claim that was the phone was taken offline to address "issues" with the device. Hopefully you understand that our original story was meant to question the sudden disappearance of the G2x and was not written as a confirmation. We still believe that T-Mobile needs to address the quality control issues which have plagued the device since days 1.
We're receiving word from some of our ninjas that the T-Mobile G2x has been pulled from T-Mobile.com due to quality control issues over the device. The G2x has been plagued with random reboots, light leaks and various minor control issues since it was first released to the public. While we can't say for certain that one of those quality control issues is behind the sudden disappearance of the G2x from T-Mobile.com, it's missing and we're betting it's not because of low inventory. Perhaps this would also explain why tonight's midnight sale was changed at the last minute to include the Sidekick 4G and not the G2x.
We're looking further into this and we hope that T-Mobile lets G2x users know if in fact there is a quality control issue with the device and offers a replacement. That's getting a little ahead of ourselves however until we know the whole story. We'll update the second we know more!