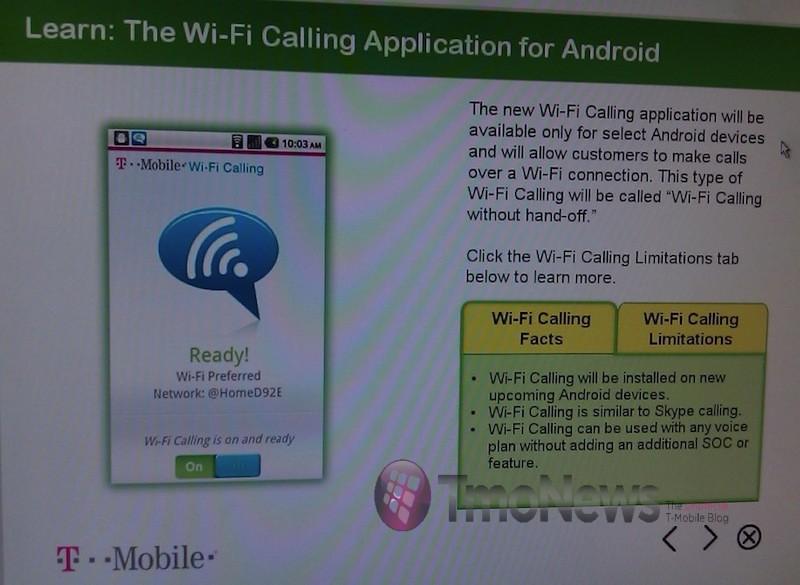 T-Mobile announced in Barcelona during the final day of Mobile World Congress that close to 5 million of its 34 million customers use Wi-Fi calls. Of those 5 million, around 1.25 million of those are using the new Wi-Fi for Android calling application. Furthermore, close to 40 million calls per month are performed over Wi-Fi networks using a T-Mobile device.
Joshua Lonn, Direct of Product Development at T-Mobile said that they are working to position Wi-Fi calling as a coverage enhancer, all but negating T-Mobile's need for a Femtocell product as their competitors have all begun to offer. While T-Mobile hasn't ruled out the possibility of a Femotocell type service, Kineto-powered Wi-Fi calling products are performing beyond the companies hopes. Lonn stated that T-Mobile hopes to offer its Wi-Fi calling app on all of its Android phones debuting this year and is working to move the service onto the Windows Phone 7 devices at some point in the future.
Personally, I believe T-Mobile hit a home run with the Wi-Fi calling service over that of a Femtocell. While Wi-Fi calling isn't a perfect and always suitable alternative to a Femtocell, it cuts down on the need for a separate device to have around and allows you to log onto any Wi-Fi network, anywhere in the country.
For the full read check out FierceWireless