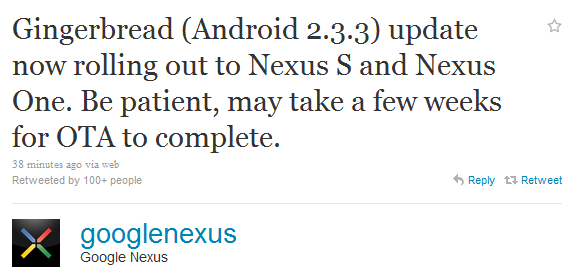 Just moments ago, Google announced via Twitter that the Gingerbread (Android 2.3.3) update is now rolling out to Nexus S and Nexus One users. While Nexus S owners already got a taste of the scrumptious gingerbread treat, Nexus One owners are (finally) receiving their promised Gingerbread update.
For Nexus S owners, Google states that the Android 2.3.3 update will put an end to those random reboots users were experiencing, as well as add full NFC support.
Google says to be patient and expect the update in the next few weeks. We'll let you know when there's a manual download link available for those of you anxious to get your hands on the updated build.
[Via Google Nexus Twitter]