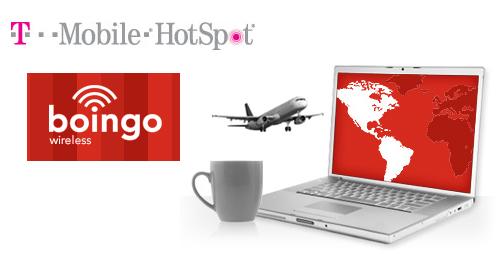 Boingo Wireless and T-Mobile have announced a "renewed and extended" roaming agreement covering both laptop and Wi-Fi enabled hotspot access.  The new agreement allows T-Mobile hotspot and postpaid mobile broadband subscribers access to Boingo Wireless hotspots at 53 airport locations and the Washington State Ferries if you happen to be in the Seattle area.  Boingo subscribers will also retain access to T-Mobile Wi-Fi airport hotspot locations including access to airline clubs for American Airlines, United Airlines, US Airways, Delta Airlines and Hyatt hotels.
"Expanding our agreement with T-Mobile USA reinforces our commitment to delivering customers seamless Wi-Fi access to a larger, collective footprint," said Colby Goff, senior vice president of strategy for Boingo Wireless. "We pride ourselves in listening to our customers and giving them access to Wi-Fi when and where they need it. Boingo users can now enjoy connectivity at airport lounges – a top request – and we welcome T-Mobile subscribers to our airport and ferry networks."
Hey, I know it's not phone news (or Android update news) but Boingo turns up at almost every airport I've been through in the last two years so this is a welcome arrangement to me and, hopefully, at least a few of you.