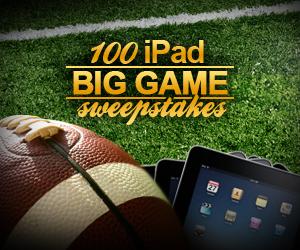 My very good friends at Phonedog are really outdoing themselves this with a giveaway on a massive scale. Not 1, not 2, not 22 but up to 100 iPads AND a trip!!!!! Do I have your attention now? Even if the iPad isn't your thing, is anyone really interested in saying no to a free trip? So what do you need to do? Well it's simple and exactly like their last iPad giveaway, with a twist.
Step 1. Hit this link and sign up for the Sweepstakes, it's Facebook based but you still need to register and use your REAL name since it'll be necessary to win.
Step 2. Jump to Facebook.com/Phonedog and "Like" their page, then head on over to Facebook.com/TmoNews and "Like" our page! Sorry, shameless plug for us right there!
Step 3. Hit the Facebook/Phonedog page for Sweepstake details, rules and information and then get ready to win!
Step 4. For every 10,000 entries Phonedog gets, they will give away an iPad. Telling your friends to help increase the number of entries only benefits you. So 1 million (1 MILLION DOLLARS! Name the movie!) entries will equal 100 iPads to giveaway!
Step 5. The first winner will be chosen January 17th at 8pm Eastern Time via live broadcast!
Step 6. Thank Phonedog for being awesome in giving away up to 100 iPads and a trip!
Want more details? Hit up Phonedog.com or just click on the link!
Oh yeah, almost forgot, you can get 6 additional chances to win by liking any of the above sites and hey, we're included! So like us, seriously…like us.