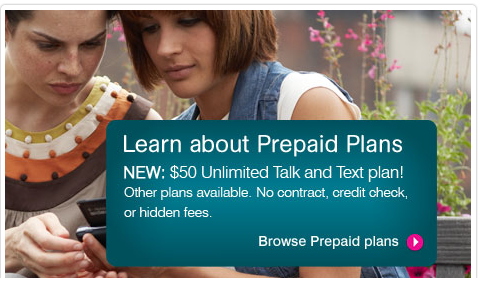 T-Mobile customers have some brand new prepaid calling and data plans to choose from starting October 18th with a whole new spectrum of options. T-Mobile isn't going to let Walmart steal all the prepaid glory and these options look pretty good if you're looking for basic offerings. Hit the press release below for the rest of the details; just don't expect any surprises from what we've seen thanks to leaked info:
Increasingly, customers are demanding affordable wireless data and mobile broadband services on their choice of handsets or mobile broadband devices, and prepaid customers are no exception. In response, T-Mobile is announcing today that it has evolved its prepaid offerings to include data plans for feature phones and smartphones, as well as to introduce exciting new wireless broadband kits and rate plans that help prepaid customers stay connected while on the go.
Prepaid Monthly Phone Data Plans
On Oct. 18, T-Mobile plans to introduce a suite of new prepaid plans that include voice and text messaging service, as well as several options for prepaid data service. These plans include the first prepaid that allows customers to use any combination of minutes or messages up to 1,500 from a major carrier in the U.S. Plans include:
$70/month Unlimited Talk and Text with 2 GB of Data
$50/month Unlimited Talk and Text with 100 MB of Data
$30/month 1,500 Talk and Text (mix and match voice and text messages) with 30 MB of Data
Unlimited Text and $0.10/minute
$1.49/day Web DayPass
T-Mobile Jet Prepaid USB Laptop Stick & Rate Plans
Next week, T-Mobile will also launch its first prepaid mobile broadband offerings, including the new T-Mobile Jet Prepaid USB Laptop Stick, in white.
The T-Mobile Jet Prepaid USB Laptop Stick comes in white, pre-packaged with a prepaid SIM card, user guide, and plug & play connection manager software.  Available on T-Mobile.com on Oct. 18 and in T-Mobile retail stores on Oct. 20.
Customers interested in trying mobile broadband or those who aren't frequent users can take advantage of several prepaid mobile broadband service options:
$10 week pass (100 MB)
$30 month pass (300 MB)
$50 month pass (1 GB)
T-Mobile's prepaid mobile broadband plans have no annual contract, no credit check, no overages and can be used with any of the company's mobile broadband products.