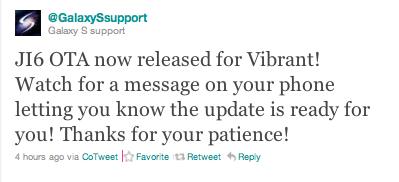 It's been a long and aggravating journey for Samsung Vibrant users with regards to an update to fix GPS issues that have been plagued them since the release of the handset. Last week continued to throw fuel on the fire with a vague tweet from Samsung regarding information surrounding the update that would arrive next week, which is now this week. Plenty of you expected news Monday, however none came. This morning however, we saw a tweet from Samsung's @GalaxySsupport Twitter account announcing the arrival of the JI6 OTA update. A message "should appear on your phone" though no timeline is given as to when you can expect that to occur. For the moment that' s all we know right now so hopefully Vibrant users can sound off below on receiving this update and any fixes that might be found.
Samsung GalaxySsupport Twitter
Update: T-Mobile has stated that Samsung will be sending out a staggered update between today, October 7th and the end of the month so don't start panicking if you don't receive it right away. Here is a list of fixes expected with this update:
The top customer issues addressed with this OTA include:
GPS, SGPA, SUPL
Exchange inbox
Contacts Sync
The Sims 3 10th Anniversary Edition
Battery indicator
Calendar alert chime
New Services: Samsung Media Hub
40+ bug fixes, UI changes and updates.