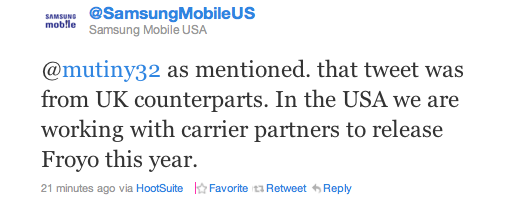 Update: As it turns out, this was indeed meant for the UK only, as it stands Engadget and I both read it as possible for a global rollout. I apologize for any misunderstanding but calling people (mainly me) in the comments for misunderstanding the post just isn't right.
Samsung has come clean regarding the Android 2.2 update, which will grace "all operator versions" before the end of November. I know the update promises Samsung makes have most Vibrant owners skeptical given recent memories of the GPS troubles but Samsung went all sorts of public with this so not meeting seems unlikely. Of course, I wouldn't start truly worrying about it till the final day of November, which meets the whole "end of November" timeframe. Hit the press release below!
New Android 2.2 Upgrade Announced for Samsung Galaxy S
Latest Platform upgrade provides enhanced experience on the go
LONDON , UK – October 21, 2010 – Samsung Electronics Co. Ltd., a leading mobile phone provider, today announces the Android™ 2.2 (Froyo) upgrade to the Samsung Galaxy S, giving users access to new features, enhanced navigation applications and improved, faster performance.
The super-slim Galaxy S is an award winning ultra-lightweight large screen Android smartphone. The Galaxy S features an incredible 4-inch Super AMOLED screen and a super-fast 1 GHz application processor, for an intelligent, immersive and integrated mobile experience. The Samsung Galaxy S has led the Android smartphone market since its UK launch this summer.
The Android 2.2 upgrade enhances the great experience of the Galaxy S, making even more of the processor speed, and the exclusive Super AMOLED screen.
The key benefits include:
Improved browser performance: enhances browsing, navigation and the 'pinch and zoom' feature
Enhanced user interface adding vivid colours and features to the android menu structure
Google Maps with Navigation: A GPS navigation system with voice guidance for a turn-by-turn navigation
Adobe Flash Player 10.1: the latest Flash Player for viewing video content
Enhanced user experience including message editing and the ability to save applications to memory card
Search in-browser: Google™, Translate, Wikipedia, Dictionary
Getting the upgrade
The Android 2.2 upgrade, will be available via Kies, Samsung's in-house software upgrade programme. Samsung has developed a brand new version of Kies which will be issued to make the upgrade experience as smooth as possible. The new version of Kies will be downloadable from www.samsungmobile.co.uk
Samsung will also be publishing video tutorials on how to upgrade, providing a step-by-step guide to the simple download process.
The Android 2.2 software is being fully tested with UK operators and the upgrade will be available in the UK from early November. We expect all operator versions of the software to be fully tested and downloadable by the end of November.
Simon Stanford, Managing Director, Mobile, Samsung UK and Ireland, comments; 'Samsung are committed to providing our customers with the best possible mobile experience, and this upgrade enhances the incredible features of the Galaxy S handset. We also want the upgrade process to be simple and hassle-free for customers, hence the new version of our Kies software and the step-by-step video guides.'