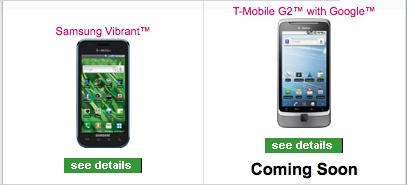 Here we go, what will surely be the two best (Android) phones for a little while (still waiting for that MyTouch HD huh?) go head to head in a good ol' comparison sheet.  As we told you before, the pricing will probably be the same for both, so that may not sway your opinion.  The biggest differences to note are the presence of a keyboard and whether you want stock Android.  If you want that keyboard, with some added heft, and/or a stock Android experience go with the G2, but if you like the Touchwiz UI and the slimmer package, the Samsung Vibrant will surely be the phone for you.  Beyond that, the phones are a near wash, with the Vibrant being an International device (the G2 isn't) and and G2 being hearing aid capable (the Vibrant isn't).  The other difference is in the memory; the Samsung Vibrant has 16 GB internal memory  and 512 MB RAM while the G2 has 4 GB of internal memory and 512 MB of RAM (remember that both have expandable MicroSD card slots, but the G2 comes with an 8 GB microSD card and the Vibrant comes with a 2 GB microSD card).  The last difference is with the silicone.  As some of you may know, the Vibrant has a 1 GHz hummingbird processor while the G2 has a 800 MHz Scorpion processor.  I will say this again, MHz isn't everything, and I am sure (until proven otherwise at least) that the G2's processor will directly compete with the Vibrant's processor.  With that in mind, which one do you favor? Leave you thoughts and opinions in the comments!
UPDATE: Silly me, I forgot to mention that the G2 can take advantage of faster HSPA+ speeds and the Vibrant can't.
Want to go even further and compare the G2 against both the Vibrant and the Slide? Good, Wirefly has got you covered, hit up their Wirefly.com/Learn page, or since we've down the work for hint this link here (Vibrant), or maybe this one here (Slide) and compare!